7 Less Obvious Keyword Research and Content Analytics Tools
Digital content has several powerful benefits over print content: It's cheaper to distribute, it's open and global (especially when it's in English which most of the world can understand) and it offers an unprecedented opportunity to understand your audience better.
Actually, technology and digital content do wonders: Having both you can target your customers precisely when and where they are most willing to engage.
"Content and technology are strange bed fellows. We are joined together. Sometimes we misunderstand each other. But isn't that after all the definition of marriage?"
To get an idea of how powerful digital content metrics can be, read and bookmark these articles:
Here are a few free or cheap content analytics options any blogger can afford:
1. UberSuggest
UberSuggest is a free keyword research tool that offers quite a few cool content analytics features.
This tool is a bit broad but I felt it deserved a place on the list. It works by letting you put in key phrases and then gives you data on that and alternatives, including the power of that phrase on Google. You will be getting an idea of what phrases are already being cornered by competitors, as well as which ones are easier for you to target.
I also like this one as a content planning tool as I can find ideas for content related to an idea I had. I have come away from UberSuggest with my editorial calendar full many times.
2. Cyfe
Cyfe is not just analytics tool. In fact, you can use for anything under the sun, it's a Swiss knife of business monitoring. And it has some cool analytics integrations that will make your analytics reports much faster and easier to access.
Use Cyfe to integrate your favorite Google analytics reports, monitor your social media growth, traffic spikes and more.
3. Tweriod
Tweriod might not be quite as relevant as it once was, but it is still a useful tool if you post a lot of content on Twitter. Find out what times your followers are most active. Discover optimal posting time. See what content was most popular and when.
All of this will help you use Twitter more effectively as a content marketing platform, as well as an engagement platform for one on one and influencer marketing.
4. Scoop.it
Scoop.it is pretty cool but the free plan is very limited. Basically you get a single page and up to ten "scoops" per day. Basically it is going to curate relevant content to give you insights into what is working well within your industry.
As an overall marketing tool, the professional version is a pretty cheap way to improve your ROI and get more bites when it comes to clicks. It is worth signing up for a free account and getting a taste of what they are about.
5. HotJar
HotJar is a cool heat map generator allowing you to clearly see which parts of your content attract most attention.
Heat maps are pretty cool. They work by tracking what visitors to your site are spending the most time looking at and clicking on. Then it gives you a visual of hot and cold areas of your site, which can point to anything from design flaws to lackluster or thin content. You can try them out for free and get a more complete picture from both a website and content perspective.
Here are more options for data visualization which will help you understand your audience and analytics reports better.
6. Social Mention
Is your content being shared or talked about? Is your brand being mentioned? You can find out on Social Mention, which allows you to search for proof of that very thing and find out what people are saying about you and what you post.
It is a bit simplistic, but very helpful.
7. iSpionage
Adwords and SEO keywords are a bit part of what you and other brands on competing for, not just customers. iSpionage gives you a look at what it is that those competitors are using and how it is working for them.
It is surprisingly affordable compared to many other similar tools and has a decent features list. I would definitely give this one a try.
Are there any other affordable content analytics tools except for the most obvious ones (like Google Analytics)? Please share them in the comments!
Oh, Now I Get It! How to Explain Complex Topics to Your Audience
Technical writers have a great number of skills, but perhaps the most important is the ability to adapt your language to the level of comprehension your audience has. A highly technical and complex article can overwhelm readers or even bore them.
"But it's impossible to delight my readers and keep them engaged when I'm talking about the
IEEE 802.11ac principle of broadband technology," We hear you cry. And, we get it. Turning a technical article into a sexy piece of content can feel like a daunting task, but it's not mission impossible.
Here are a few content creation tips that will help you explain complex topics to your audience in a delightful manner.
Imagine That You Are Explaining the Subject to a Non-Tech-Savvy Friend
One of the most important things when creating technical content for a more broad audience is consistency. So, as much as possible try to use the same tone, level of knowledge, complexity of vocabulary, and so on. The easiest way to calibrate your writing style is to imagine that you are writing for a friend or a relative that has nothing to do with your area of expertise.
Imagine you are trying to explain a particularly complex topic to them, in a friendly and light discussion. How would you approach the subject? What elements you think would bore or frustrate them?
What helps you in the real world is adapting your style and vocabulary to the other person's knowledge. You know that you don't have to explain what an Internet browser does, but you might have to tell them more about the coding behind it when discussing responsive web design, for instance. Use common words and keep them engaged with a lighter, friendly style.
Adapt Your Vocabulary and Structure
Let's take a look at how you can flip your technical writing to be more approachable. First of all: use concepts that your audience is familiar with or at least has a general idea about them.
A good start is to check what search words visitors use when browsing your website. You will identify commonly used terms that are related to the technology that interests them. Use those keywords yourself to keep visitors on your page.
Also, be careful about the structure of the text when writing online, especially when you are trying to explain something complex. Make sure to split your text into readable chunks. You can also help the reader understand the subject better by using titles and subtitles to separate the main ideas of your article.
Build up the Knowledge of Your Audience, from General to Detailed
Once you have established a common language and vocabulary between you and your target audience, start methodically presenting your topic, from general level information to more detailed aspects. Applying this rule will help you readers understand the topic better without wasting too much time. Online readers tend to ignore content that is, irrelevant or hard to understand.
While it is important to get the basics straight before getting deeper into your subject, make sure to summarize the purpose of your article at the very beginning, as it will let your audience know what they will learn about after going through it.
Use Style Tools That Help Your Audience Relate to the Topic
The fun part of writing about technical topics for a general audience is getting creative with it. Because you can't use the "boring," "stiff" technical jargon, you must come up with expressive comparisons, examples, and analogies. You can even evoke anecdotal evidence to support the facts since they are highly relevant for many of the users.
Helping them relate to the topic you are writing about is the key to grabbing their attention. Use day to day examples for the systems and processes you are describing, or mention the best-known similar thing. Give them examples of possible situations when they can come across the topic you are writing about and enable them to talk about it themselves.
Ultimately, is all about correctly identifying the level of knowledge your audience has. Encourage them to comment and ask any questions and keep the conversations alive.
IT Management Solutions: What is the Key to Improving Employee Efficiency?
There are many ways you can improve your employees' efficiency. From decluttering the workspace to encouraging a stress-free environment, there is a whole range of things you can do to make your work life run smoother. One such technique you need to adopt for your company is an IT management solution.
What Does It Do?
An IT management solution such as SysAid takes all of the day-to-day programs that a business will use and consolidates them into one easy-to-use package. Every employee should be able to log on and complete all their work without having to leave the initial program.
It can contain such subsections as project management, customer relationship management, billing and invoicing, and a whole host of other features.
Why Should Employers Implement Such a Solution?
A system such as this allows managers to have better visibility over the company as a whole. They will be able to tell if an employee is completing their daily tasks to the best of their ability and will also allow them to see where they are lacking.
The data from the completion of these daily tasks can easily be tracked and analyzed to see where employees are struggling with efficiency. With some adjustments, efficiency can then be improved in these areas.
Project Management
One of the key reasons to install an IT management solution is for the project management aspects. A good project management program lets all employees know where they are with their projects at all times. Whether you are just working on the project or a project manager, you will be able to see the stage that the project is at and all the steps and processes that still need to be completed.
This collaborative nature helps improve speed and efficiency and stops the project becoming grounded in a lack of communication. If you are not yet using a project management system, you will notice that many small but important problems like misuse of resources will be greatly reduced.
Customer Relationship Management
By having your customer service staff use one portal for all their needs, you will see a great improvement in efficiency when it comes to handling customer enquiries. An IT management solution can contain a database with all your customer's information. This means that if a case needs to be passed from one team member to another, there is little to no chance of any relevant information being lost in the transfer. Everything should be in place in the one database.
Invoicing and Billing
Keeping your various accounts and invoices in different places can lead to items being forgotten or double-charged. By using an IT management software, your managers and accountants will be able to successfully keep track of all costs and reduce unnecessary spending. This will improve efficiency as multiple enquires are not being made to complete invoices and other reports.
There are just some of the ways an IT management solution can improve your business. If you feel you need to improve your company's efficiency, consider implementing one today.
Meet Daniel Cowen-Rivers of TravelWeekli.com
Blogging can lead you to many opportunities. All established bloggers now have been through the phase of being a new comers. They have experimented one way or another along the process. Trying different things out does help in determining your own style and strategy.
We've interviewed bloggers covering various niches in Meet the Bloggers. For this episode, we'd like to introduce Daniel Cowen-Rivers. He's a budding travel blogger. Read on to know more about his journey across the globe and a
1.) Please tell us about yourself and how you got into blogging?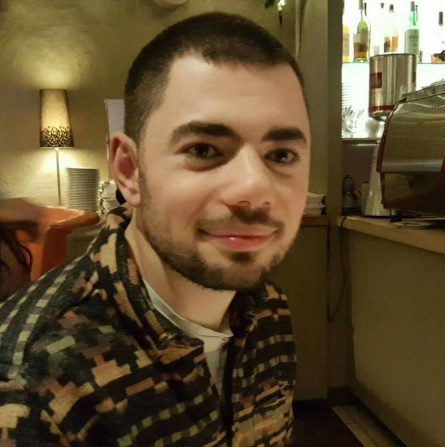 I am a budding travel blogger who travels the world and shares my experiences and travel expertise via social media and through my blog. I got into blogging as I wanted to share my traveling tips and photos with others to make them travel more before global warming destroys the world.
2.) What is the focus of your blog and why did you choose that niche?
I chose traveling to share my love of seeing the world and different country's way of living. I also wanted more people to find out about the world we live in.
3.) How are you currently monetizing your blog traffic?
AdSense. I have a few paid ads but not that many as I am still new to the game. I've started blogging since February of 2017.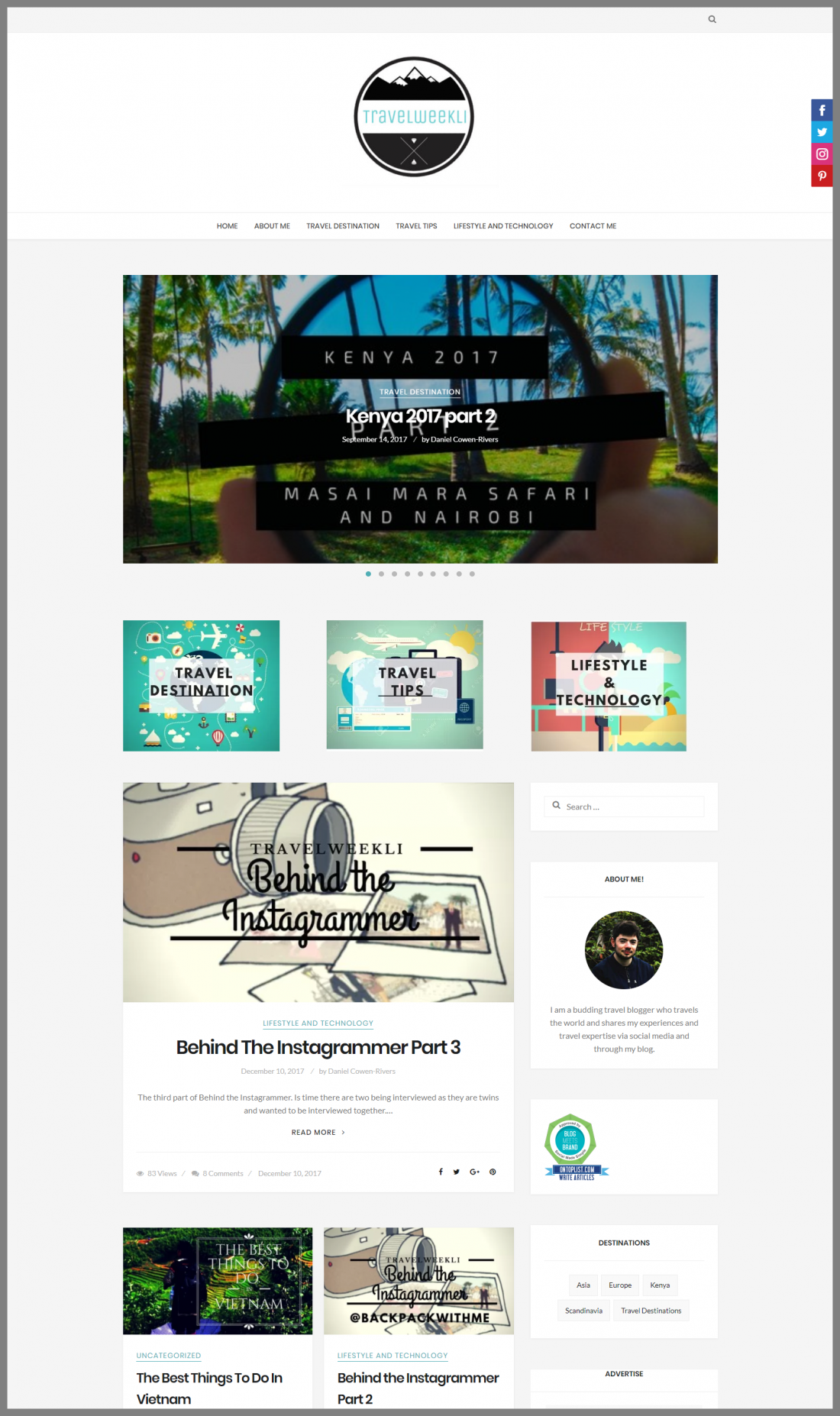 4.) What do you know now that you wish you knew when you first started blogging?
I did not know about DA and SEO that I know now is very important in order to get sponsored post.
5.) What are three blogs that you visit almost daily?
The blogs are:
6.) Can you give us three recommended tools/services that you use with your blogging?
The three services that I recommended using to help your blog are:
Yoast – A blog in called SEO by Yoast. This makes optimizing my blog post easier to rank higher on Google search.
OneNote – I'm constantly making notes for future articles. As I always have random moments where I'm going by my day and I just randomly have an idea for a blog article. I always carry my phone to write the note in OneNote.
MailMunch – is a plugin for WordPress that comes with email subscription templates that you can place in certain parts of your blog and I made mine as a popup.
7.) What advice would you have for someone who is just starting with their first blog?
Pick a niche category that you want your blog to be about. As well as this, one of the most important advice I have is one that you need to know when starting out, is how to improve your SEO and DA.
8.) What's the best advice or tip you've discovered about blogging since getting started?
Just keep blogging! After a few months, I only got a few readers per day and I've thought to quit then. However, I've read that it takes people years to get enough readers to be a full time blogger. Just keep blogging and don't stop.
9.) If you only had $100 to start a new blog, how would you use it?
I would use the money to gain more Facebook likes on my Facebook page that in turn will convert readers for my blog. This will be done by advertising the page and blog on Facebook.
10.) How can readers of the blog get in touch with you?