3 Ways to Better Brand Your Youtube Video
After the video concept and implementation, its proper branding is the second most important step to the success. Your website logo, domain name or brand name should by all means be present on the video.
Here are the three essential video elements you should add proper branding to:
Add a Video Intro
The video intro is a good way to get your branding in front of people straight away. It's a good idea to have the same intro for all your videos for the sake of consistency.
I have used Fiverr many times to find a good video intro for by channels. It's very affordable and you always know what to expect thanks to the gig previews.
Here's a good collection of video intros with free download links in the description:
All in all, depending on how good your video intros are, the users will either keep watching or leave and for how long you'll be able to keep your customers engaged with the video determines video Youtube rankings.
The better people are engaging with videos on Youtube, the higher they rank and the more Youtube is pushing the videos to be watched more and more. Video engagement is crucial for Youtube ranking and suggesting algorithm. Therefore a captivating video intro is crucial:
Keep your video intro short and memorable
Obviously, brand it well but don't make it about your brand. Focus on making it engaging. Try and make sure that it grabs and holds the attention.
It may be a good idea to let your friends and followers watch your video intro and share their feedback before you move forward with it.
Add a Watermark
Promoting a video without a watermark is the same as link building without actually specifying your link.
Just like an image watermark, the video watermark is important for:
Increasing your brand awareness (people watching the video will remember your brand);
Increasing your site direct (type-in) traffic (after watching the video many people will check your website at least out of curiosity);
Protecting your video from re-distributing under someone other's name (if your video is great, someone is likely to want to promote his own site with it).
How to add a watermark to your video with free tools:
Windows guides:
Put a watermark to the entire video or to the part of the video: this guide is based on the free desk-top application called VirtualDubMod:

prepare your logo as a .BMP or a .TGA file (the preferred size is 200 (width) x 20 (height));
launch the application;
Navigate: File -> Open video file;
Go to Video -> Filters and click "Add Filter";
Choose "logo" in the list of filters:
Upload your image;
Play with watermark settings: opacity and position:
(1 – opacity; 2 – manual adjustment of the positioning of the watermark; 3 – the preset adjustment of the positioning of the watermark. TL stands for Top Left, MC stands for Middle Center, BR stands for Bottom Right, etc)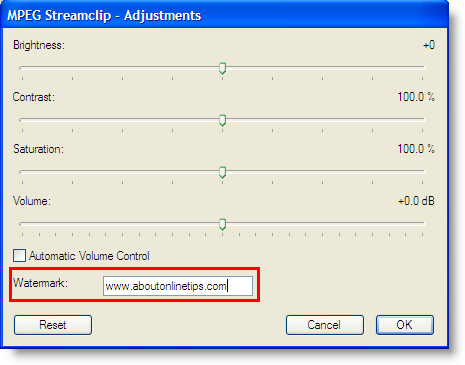 Mac guide:
How to Add Watermark to Video and DVD Output on Mac: this guide is based on the application called iMedia Converter for Mac (this one is paid – $49.00, if you are aware of any free alternative, please share):

Click 'Load DVD' and 'Add Video' to add your media source.
Click 'Edit' to create a watermark.
Add picture as watermark to Videos or DVD on Mac: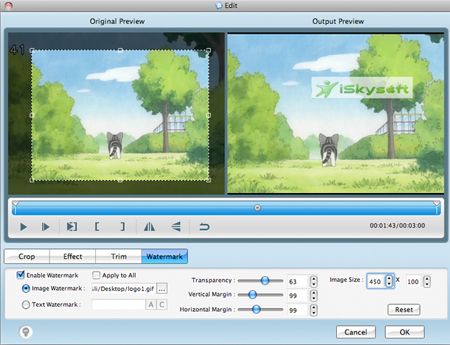 Do you have any other advice on watermarking your videos (preferably one that even an amateur could follow). Please share your thoughts!
Brand the Thumbnail
A video thumbnail is probably the most important thing for click-through. It shows up in search results, related and suggested videos and it actually determines whether your will get more clicks than the videos around it.
Here are a few tips for the winning Youtube video thumbnail:
Create something that is immediately recognizable: Think of the channels you watch frequently. You may have noticed that they have a certain 'look' to their thumbnails. These trigger a connection in your mind, letting you know that it is a video you would like to watch. The most successful YouTube channels will use this tactic.
Keep style consistent across the channel: If it looks a certain way on one video, it should use a similar motif or pattern for the next. This will assist in the branding of your image, which in turn will connect others to your channel and so what you upload onto it.
Overlay with very readable clear text: Readable thumbnails attract eyes and trigger curiosity improving the click-through. Don't use more than 7 words there (they should be readable even if the image is very small).
Keep in mind that the image will be used also as a preview image for the embedded player, so the original should be a full 1280 x 720.
Canva is a great tool to create Youtube thumbnails. They even have templates for that.
More Youtube Marketing Tools and Resources
Cyfe is a great way to monitor your Youtube stats, many metrics and multiple channels, within one handy dashboard. You can watch whole channels or particular videos:
Another useful tool for video marketing is this Youtube-based Auto-Suggest tool. It extracts Youtube search suggestions and expands your core term with every letter of the alphabet to obtain more suggestions:
Here's also a useful collection of Royalty free and Creative Commons images, videos and sounds for you to use to create awesome videos. You can use all of the sounds and video elements on the list without worrying about copyright infringement. Just make sure to post the credits in the video description! This website also shares some additional Youtube marketing tips to check out!
Are there any other Youtube branding tips you can share? Please comment!
14 Social Media Tips For Attracting Gen Z Audiences in 2019
As the workforce and consumer market's next up-and-coming demographic, Gen Z is an attractive target audience for many businesses. Depending on your company, you may want to consider this audience in your social media efforts to engage prospective customers and employees. However, it's important to remember that each generation has their own unique preferences — what worked in attracting millennials, for instance, won't necessarily work for Gen Z.
To help you target Generation Z on social media, we asked a panel of Young Entrepreneur Council members for some tips they've used to successful appeal to this audience. Here is what they advise:
1. Personalization
I think that personalization is one of the best ways to appeal to Gen Z on social media. Studies show that more people want to see personalized content and advertisements than ever before, starting with Gen Z. We can use this love of personalized experiences to create content playlists and advertisements that appeal to this crowd.
2. Influencer Marketing
Studies have shown that the Gen Z audience relates more to influencers than celebrities, so influencer marketing on social media is a great way to connect with them. When they see someone that they can relate to using a product, they're more likely to buy that product too. Influencer marketing is a form of social proof that the Gen Z audience can trust.
– Stephanie Wells, Formidable Forms
3. Chatbots
One of the best ways to generate leads for your business, especially with the Gen Z crowd, is by having a chatbot available on your social media account to answer any questions. Live chat reps are good for some tasks, but if a customer has a common inquiry, you could implement a chatbot to help resolve these questions or concerns in seconds.
4. Instagram Stories
Instagram Stories are widely popular with the Gen Z audience. Instagram Stories are great because they're short and engaging, which is perfect for an audience with a shorter attention span. With so much content on the internet, it's important to get information across quickly and in an entertaining way.
5. Answer Their Questions
Gen Z prefers to engage with businesses on a more personal level, so taking time to answer their hard-pressed questions when other brands ignore them can set you apart from the rest. Try to solve their pain points and figure out what they need help with so they look to you as an expert and appreciate what you can give them.
6. Video Content
Blog content is great and capable of getting millions of views, but Gen Z seems to prefer video content over traditional text. I like to mix it up by creating a blog post, then creating a short video version of the article for people who prefer this format.
7. Leverage FOMO
People, especially in the younger crowd, hate to feel like they're missing out on anything important going on. That's why using FOMO, or fear of missing out, is such an effective method to get their attention on social media. Make it sound urgent that they take some sort of action beneficial to your business. – Thomas Griffin, OptinMonster
8. Focus Your Efforts
Facebook is trending towards the millennial and older group, while Tik Tok, Snapchat and even Instagram are much more appealing to Generation Z. Make sure you focus your efforts on the channels in which your audience exist, then produce content that resonates with them. Short videos, in particular, are very powerful for interacting with this audience.
9. Value-Driven Content
When communicating with Gen Z through my social platforms, I focus on providing some form of value in the content that I share. There is no audience as tech-savvy or as fluent and comfortable with different online platforms as Gen Z, and in turn, they will not be impressed by or respond to something that is not of value to them. Providing value allows you to cut through the clutter and resonate.
– Adam Mendler, The Veloz Group
10. Mobile Experiences
Go mobile, because that's where the Gen Z audience is. Smartphones are what they live by. This can supersede other strategies that might seem effective because, in the interests of the demographics, you have to go to the device where they're at the most. On that note, your website should be perfectly optimized to mobile.
– Andrew Schrage, Money Crashers Personal Finance
11. No Filters
If you've been following Gen Z on Instagram and other social media, you might have noticed that they don't spend nearly as much time as, say, millennials to make their feed look polished. Many of them specifically bypass Snapseed and post straight from their phone. The "realness" of this world is what really attracts young people from this generation, so just be real and capitalize on imperfection.
12. Images and Memes
The younger generation has a short attention span. Get your message across quickly by using images and memes. Avoid any marketing message that takes more than 10 seconds to initially consume.
– Brian Greenberg, True Blue Life Insurance
13. Behind-the-Scenes Content
Gen Z is a more self-aware generation. They use social media for entertainment as well as learning. Using video content to give them behind-the-scenes glimpses into the brand, creating how-to videos and using social media for telling compelling stories is the best method to boost engagement. They don't want to be sold to, so brands need to forge organic connections through their content.
14. Corporate Social Responsibility
Use a social cause to drive your brand and product mission forward. Create social media campaigns and profiles that are associated with improving life. The majority of Gen Z care deeply about making an impact and they want to be aligned with brands and products that do just that. Do this in an engaging way, like through Instagram story, to build a more personal connection this generation craves.
– Jared Weitz, United Capital Source Inc.
Social Media is the Path to Generation Z
In addition to the many tips and marketing methods listed above, it's also important to have an effective content creation and marketing strategy in place.
To learn more about what's working best for bloggers, brands and content marketers on social media, click here for more tips and actionable methods you can start implementing today.
#1 YouTube Banner Template: How to Create a Custom Banner for Free
The world's population watches almost 5 billion YouTube videos every single day. That means YouTube is a massive market that you're most likely not utilizing.
But don't worry, it doesn't take much to get a professional footprint on YouTube. When you're getting started, one of the most important features to focus on is your YouTube banner.
We'll go into everything you need to know about creating a YouTube banner. Towards the end, we'll recommend a few YouTube banner templates to get you started.
What is a YouTube Banner?
When you click on any given YouTube user's name, YouTube brings you to that user's channel. Here you can see all their videos and playlists. At the top of the screen is a banner with the YouTuber's brand. This is a YouTube banner.
Click around on a few different users you follow to get a good idea about the different banners on the market. See what draws your eye and what you do and do not like.
If you'd like to find more tips on how to effectively create and use your YouTube profile page and videos for branding, be sure to check out these quick tips.
What are the Banner Specifications?
When you're designing your banner, it's important you follow the right specifications. People are watching YouTube on their phones, tablets, laptops, and even their TV's. You need to make sure your banner renders properly on all these different screen sizes. You can make sure you get it right by following the specifications.
According to Google, your banner should meet the following specifications:
Recommended: 2560 x 1440 px
Minimum for upload: 2048 x 1152 px
Minimum "safe area" where text and logos are ensured not to be cut off: 1546 x 423 px
Maximum width: 2560 x 423 px
File size: 4MB or smaller
What Should I Include in My Banner?
Your banner is a representation of your brand. It should intrigue viewers, and give them a snapshot of what to expect from your channel. Make sure to include your brand name.
Here are the Best YouTube Banner Templates
There are several places you can get a high-quality YouTube banner template for free. Here are a few of our favorites.
Google
Google has its own template designs for YouTube. Makes sense, after all, they do own YouTube.
Adobe
Adobe is perhaps the best YouTube banner maker app available on the market. They let you create a design for free in minutes with no previous experience.
Canva
Canva offers several different template designs. They have available stock photography you can use, or you can use your own images.
It's Easy and Vital To Get A Quality YouTube Banner
We've covered all the basics you need to know to get a quality YouTube banner. We've also listed some of the best places to get a YouTube banner template.
Getting a YouTube banner is an important start in a quality YouTube channel, but it's only the start. Now you have a professional YouTube appearance!
The banner is vital for a professional appearance. But that alone isn't enough. Regularly post quality videos to build traction for your YouTube presence.
I make over six figures every month and so can you. Sign up below to get instant access to my exact blogging strategy!
Instagram Checkout and the Move Toward Frictionless eCommerce
The number of hurdles standing between online shoppers and completing transactions is dwindling. The path to purchase is getting smoother as retailers move toward frictionless ecommerce. Gone are the days where shoppers must visit an ecommerce website to buy a product, especially if they originally spot the product on a social media platform.
Nowadays, social shopping is capable of enabling people to reduce the number of steps to checkout by allowing them to buy without exiting social media. Instagram Checkout is the latest feature geared toward making it easier to complete deals. Here's more on this announcement and its potential impact on the ecommerce industry as a whole.
First, What Is Frictionless Ecommerce?
When you hear the word friction, you probably think of resistance. This force can be useful, like using sandpaper to smooth down rough wood. Or this force can be a hindrance, like trying to slide a piece of heavy furniture across the floor. In ecommerce, friction is undesirable because it means shoppers are meeting resistance when they try to proceed through the sales funnel.
Frictionless ecommerce is something sellers are seeking out because it allows them to "integrate buying opportunities as simply and seamlessly as possible into consumers' everyday activities and natural environments," according to BLM Technologies.
One of these natural environments is social media, an activity in which many users are spending a larger chunk of each day. It only makes sense to try to sell to people there, rather than requiring them to visit a separate website each time they want to browse or buy.
The ethos behind frictionless ecommerce tells us reducing the number of steps it takes to buy products online will motivate more people to stick around for as long as it takes to convert. Less hassle translates into more sales and a better customer experience.
Of course, it's still vitally important to set up a responsive, fully featured online store complete with secure checkout. After all, some people won't use social shopping. Today, leading platforms like Shopify offer free ecommerce website builders to help retailers run their stores. Branching out into frictionless ecommerce in the form of social shopping will help merchants capture even more sales by offering shoppers flexible options.
Building a Trusted Brand and Following Will Still Apply
As you can imagine, with more than a billion active users on the Instagram platform, it's going to get quite competitive when it comes to ecommerce advertising. With that being said, this is where traditional authentic and organic followers and engagement will come into play.
We recently talked about the power and effectiveness of using a tool like Kicksta to automate the audience targeting and engagement process. For ecommerce and online stores, this is one of the best ways to put your Instagram marketing efforts on auto-pilot, which also reaching new audiences daily.
This also leads to better paid advertising and remarketing options as well. Once a user starts following your account, you have a clear indication that they are interested in what you have to offer.
Set up a new Instagram ad campaign that targets your existing followers, then compare the results with your outside targeting and default ad campaigns. We are sure the existing follower audience set will perform much better. You can visit their website here and watch the short video on their homepage to see how the process works.
The Rise of Instagram Checkout in Ecommerce
Instagram is a highly visual platform, allowing brands to connect with users through engaging images, videos and captions. If you're an Instagram user, chances are you know the feeling of seeing something you like and wanting to know more about it — or perhaps even conducting an impulse purchase it on the spot.
Instagram Checkout aims to tap into the marketing prowess of this app by "allowing users to complete product purchases without having to leave the app." It's all of the convenience of online window shopping without even having to go into the store, except people can still get their hands on the product. Plus, after Instagram users enter their payment data once, the app saves it for future purchases. Thus, the purchasing journey remains inside a single app — making it more convenient and tempting for mobile shoppers who follow their favorite brands online.
At the moment, Instagram Checkout is a feature in beta testing available to about 20 top brands. An advanced version will be available to more merchants down the line, which means we all need to prepare for the wider acceptance of social shopping. Once this becomes the standard, online users will crave ultra-convenient experiences.
Instagram Checkout is an exciting new development on the horizon for ecommerce brands, and stores must embrace the move toward frictionless ecommerce to stay competitive.