After the video concept and implementation, its proper branding is the second most important step to the success. Your website logo, domain name or brand name should by all means be present on the video.
Here are the three essential video elements you should add proper branding to:
Add a Video Intro
The video intro is a good way to get your branding in front of people straight away. It's a good idea to have the same intro for all your videos for the sake of consistency.
I have used Fiverr many times to find a good video intro for by channels. It's very affordable and you always know what to expect thanks to the gig previews.
Here's a good collection of video intros with free download links in the description:
All in all, depending on how good your video intros are, the users will either keep watching or leave and for how long you'll be able to keep your customers engaged with the video determines video Youtube rankings.
The better people are engaging with videos on Youtube, the higher they rank and the more Youtube is pushing the videos to be watched more and more. Video engagement is crucial for Youtube ranking and suggesting algorithm. Therefore a captivating video intro is crucial:
Keep your video intro short and memorable
Obviously, brand it well but don't make it about your brand. Focus on making it engaging. Try and make sure that it grabs and holds the attention.
It may be a good idea to let your friends and followers watch your video intro and share their feedback before you move forward with it.
Add a Watermark
Promoting a video without a watermark is the same as link building without actually specifying your link.
Just like an image watermark, the video watermark is important for:
Increasing your brand awareness (people watching the video will remember your brand);
Increasing your site direct (type-in) traffic (after watching the video many people will check your website at least out of curiosity);
Protecting your video from re-distributing under someone other's name (if your video is great, someone is likely to want to promote his own site with it).
How to add a watermark to your video with free tools:
Windows guides:
Put a watermark to the entire video or to the part of the video: this guide is based on the free desk-top application called VirtualDubMod:

prepare your logo as a .BMP or a .TGA file (the preferred size is 200 (width) x 20 (height));
launch the application;
Navigate: File -> Open video file;
Go to Video -> Filters and click "Add Filter";
Choose "logo" in the list of filters:
Upload your image;
Play with watermark settings: opacity and position:
(1 – opacity; 2 – manual adjustment of the positioning of the watermark; 3 – the preset adjustment of the positioning of the watermark. TL stands for Top Left, MC stands for Middle Center, BR stands for Bottom Right, etc)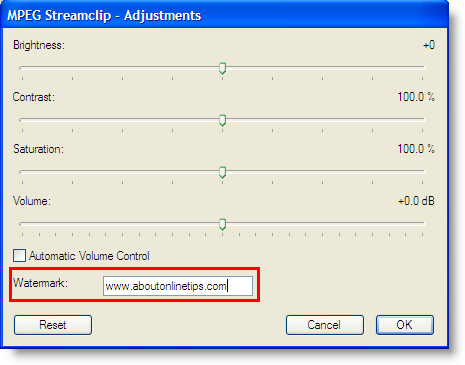 Mac guide:
How to Add Watermark to Video and DVD Output on Mac: this guide is based on the application called iMedia Converter for Mac (this one is paid – $49.00, if you are aware of any free alternative, please share):

Click 'Load DVD' and 'Add Video' to add your media source.
Click 'Edit' to create a watermark.
Add picture as watermark to Videos or DVD on Mac: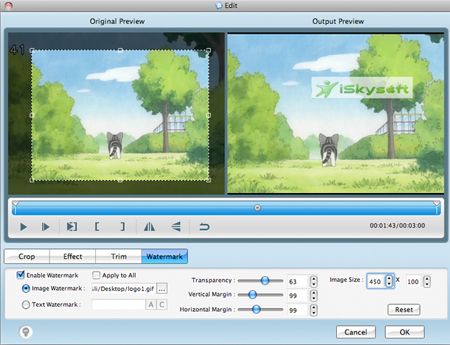 Do you have any other advice on watermarking your videos (preferably one that even an amateur could follow). Please share your thoughts!
Brand the Thumbnail
A video thumbnail is probably the most important thing for click-through. It shows up in search results, related and suggested videos and it actually determines whether your will get more clicks than the videos around it.
Here are a few tips for the winning Youtube video thumbnail:
Create something that is immediately recognizable: Think of the channels you watch frequently. You may have noticed that they have a certain 'look' to their thumbnails. These trigger a connection in your mind, letting you know that it is a video you would like to watch. The most successful YouTube channels will use this tactic.
Keep style consistent across the channel: If it looks a certain way on one video, it should use a similar motif or pattern for the next. This will assist in the branding of your image, which in turn will connect others to your channel and so what you upload onto it.
Overlay with very readable clear text: Readable thumbnails attract eyes and trigger curiosity improving the click-through. Don't use more than 7 words there (they should be readable even if the image is very small).
Keep in mind that the image will be used also as a preview image for the embedded player, so the original should be a full 1280 x 720.
Canva is a great tool to create Youtube thumbnails. They even have templates for that.
More Youtube Marketing Tools and Resources
Cyfe is a great way to monitor your Youtube stats, many metrics and multiple channels, within one handy dashboard. You can watch whole channels or particular videos:
Another useful tool for video marketing is this Youtube-based Auto-Suggest tool. It extracts Youtube search suggestions and expands your core term with every letter of the alphabet to obtain more suggestions:
Here's also a useful collection of Royalty free and Creative Commons images, videos and sounds for you to use to create awesome videos. You can use all of the sounds and video elements on the list without worrying about copyright infringement. Just make sure to post the credits in the video description! This website also shares some additional Youtube marketing tips to check out!
Are there any other Youtube branding tips you can share? Please comment!