Do you remember the first time you wanted to create a website or blog? Do you also remember the struggle you went through the first time around trying to figure out how to customize and design your site? I remember how frustrating (yet also exciting) those times were. The good news is that there are plenty of tools, resources and blogs out there to help you with literrally anything you can think of.
A perfect example of this can be seen in today's Meet the Blogger interview with Marianne Manthey, who helps bloggers with the process of designing and customizing their sites. Be sure to check out her website and interview below, as it may bring some new inspiration for your own blog design and content creation in the process!
1.) Please tell us about yourself and how you got into blogging?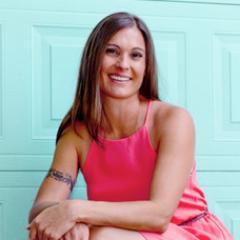 I have been a web designer since 2001 and had always worked for corporate companies. Around 2009, I read The 4-Hour Work Week by Tim Ferriss and it changed my life by changing my way of thinking about how we live our lives and earn money. Soon afterward, I discovered the world of blogging and saw that there were businesses to be made in this realm based on teaching others what you already know. I have always loved to gather and collect information for friends and family and used to do so via email. I'd send them a list of links and resources I had found helping them to do this or that. Blogging, to me, was a way to gather, collect and share this knowledge and keep it all in one place. Now I could share this information not only with those close to me but with lots of other strangers as well.
2.) What is the focus of your blog and why did you choose that niche?
The focus of Design Your Own (lovely) Blog is to teach women bloggers how to beautify their blogs on their own. I actually struggled for a few years trying to discover this "niche." In 2010 I started out with a lifestyle design blog which was meant to share how you could escape the 9-5 and design a lifestyle of your choosing. After a while, I lost interest because at the time, I wasn't really doing that myself and I felt like a fraud, so I gave up the blog.
Later, when I was pregnant, I became obsessed with nursery design and thought maybe I'd blog about that. But after a while, I realized that not only were there too many blogs about the subject, but I had no background in interior design so who was I to tell people how to design their nurseries, ha!
Then one day (3 years later!) I realized that what I really wanted to teach had been right under my nose all along. The very thing I did every day for a living and had been doing for over a decade was designing websites. With so many ugly blogs out there, I felt I had to do something to help beautify the web!
I knew that a lot of women were starting blogs but didn't have the budget to hire a designer and I also knew that there were tons of free and cheap resources out there to help. In this way, my love of gathering, collecting and sharing was fulfilled and I've helped countless women in beautifying their own blogs on a budget! My heart is absolutely full when I read the stories from women who have thanked me for helping them!
3.) How are you currently monetizing your blog traffic?
At the moment, I monetize mainly through affiliate sales and sales of my ebook, Blog Beautiful: 50 Tips and Tricks to Make Your Blog Glow. I am finally launching my first e-course this summer that I hope to boost my income with since I just recently took the plunge and became unemployed (ack!) I hope that you will check out Crush CSS when it comes out!
4.) What do you know now that you wish you knew when you first started blogging?
I wish that I had known that it's ok to try things and fail. Not knowing this has stopped me in the past from doing so many things and taking my blog to the next level. Had I know this, I would have had the confidence to create and launch a course much sooner than I am. It's always been something I have wanted to do and the only thing that held me back was my own fear.
The funny thing about blogging is that everyone messes up at some point or another. Everyone has a fail story or failed launch. Looking back now, if I had launched a year or two ago and failed, it wouldn't have been a big deal. I would have just improved on the product and tried again. Now that I'm finally making solid ground toward building my course, I feel less pressure about it.
5.) What are three blogs that you visit almost daily?
To be honest, I don't spend too much time on other blogs these days because I want to get my work out there, but I really value advice from Melyssa Griffin, Regina Anaejionu, and the Canva Design School blog.
6.) Can you give us three recommended tools/services that you use with your blogging?
The tools I use the most are my social media schedulers, Buffer and Tailwind as I get a large portion of my traffic from Pinterest and Facebook. I also love using ConvertKit to manage my opt-ins and email broadcasts. And I would be nowhere without Evernote to organize all my blog post, ebook, and course ideas, outlines, and drafts!
7.) What advice would you have for someone who is just starting with their first blog?
I think the best way to start is to just start writing. Pick a free platform, start writing, and see what comes of it. You'll learn a few things. You'll learn:
if you even like writing at all
what you like to write about
what topics seem to resonate with others most
Blogging is hard work and many many blogs never make it past a few weeks. Coming up with a focus and content to write about is really hard sometimes, especially when no one is reading it at the beginning. If you try it for a few weeks or months and get bored, you'll have wasted nothing but a little time but you will have learned a lot about yourself.
If you're not sure what platform to start your blog on, take my free quiz here.
The only other thing I would say to a new blogger is to have a lot of patience! Blogging takes time to build an audience and gain their trust. Like I mentioned before, it took me three years just to find the right topic. It took me another six months or so to launch the blog, then I spent the first year creating and sharing only free content. I purposely did not try to monetize my blog for the first year because I felt it was absolutely important for me to gain my audience's trust first. You don't have to do it this way, but it worked for me.
8.) What's the best advice or tip you've discovered about blogging since getting started?
The best thing I've learned is that there are no rules and it's ok to take a break. I haven't written a new post in 2 months now and I'm ok with it. I still keep in contact on social media and send out a few emails to my list. It's important for me to make this journey last as long as possible and to not burn out. If blogging doesn't fit into my lifestyle, I am more likely to quit, so I have to do what works for me.
As an example, I am considering launching my upcoming course without webinars. I think webinars were part of the fear that held me back from doing my course for so long. This really confronted me at first because all the experts say you have to do webinars to launch a new course. Then one day it hit me: I don't have to do a webinar! Will it affect my sales? Maybe, but at least it won't stop me from launching at all. I haven't come to a final decision on this yet, but I'm ok with it either way.
9.) If you only had $100 to start a new blog, how would you use it?
I would use it to buy a domain name and a year's worth of WordPress hosting.
10.) How can readers of the blog get in touch with you?
I welcome all questions from anyone (not just women) who want advice in making their blogs look better! Feel free to leave a comment at Designyourownblog.com.
You can reach me on Twitter at @marianney but the best place to get advice is by joining my Blog Beautiful Facebook Community and asking there. That's where I do a weekly feedback session during Open Office Hour. Come join us: Blog Beautiful Facebook Community Guidelines!
Thanks again Marianne Manthy for taking the time to share your advice and story with the Blogging Tips community. If you would like to learn about other bloggers and how they are finding success online, be sure to read through our blogger interview series.