Meet Ruben Gamez of Bidsketch.com and Docsketch.com
Many entrepreneurs have dipped their toes into blogging but not many have gone far. A lot of factors may have played in failure. Perhaps the lack of courage, determination, persistence? There are also instances wherein a venture is progressing but suddenly plateaus in growth. This is often the result of complacency. Successful business owners can attest that facing challenges head-on have led them to great accomplishments and the total lack thereof can do more harm than good.
For Ruben Gamez, he didn't even have to wait for the challenge to come. He got into blogging by getting out of his comfort zone and challenging himself. Today, he continues to excel as an entrepreneur by constantly finding ways on how to improve his tactic. Learn more about Ruben in this week's episode of Meet the Bloggers.
1.) Please tell us about yourself and how you got into blogging?

I started blogging as a marketing experiment and to prove to myself that I would be able to sell my first product. At the time I was working a full time job and had an idea for a software product, but wasn't sure if I'd be able to bring in enough traffic to make the idea viable.
By this point I had read enough about marketing to realize that blogging was a great way to bring in qualified traffic. I quickly did some keyword research and found a topic that I could write on, and published a post (one week later).
The goal was to see if I could actually bring in traffic, and how long it would take for that traffic to start coming in. After two weeks I started getting traffic to that post (through Google)! I was hooked on content marketing at that point.
2.) What is the focus of your blog and why did you choose that niche?
Initially we started with a very narrow focus of writing about proposals for designers. That's because at the time, our product was very niche and that was our target audience.
For example, one of the better performing posts we had at the time, was literally titled "How to Write a Web Design Proposal," which still performs well for us. As you can imagine, there's only so much of that type of content you can write for a specific niche.
I quickly realized that it was too narrow and eventually expanded to blogging about helping freelancers, agencies, and consultants land more clients.
We went in this direction after talking to enough customers and seeing what interests they had, and what type of content they liked.
3.) How are you currently monetizing your blog traffic?
We have an online software product called Docsketch. So the main way that we monetize our blog is by converting a portion of readers into customers.
It tends to be a longer process because instead of pushing visitors directly into a trial of our product, we work to get them into a drip campaign. From there we can better educate them and build trust. Eventually, some people give Docsketch a try and become customers.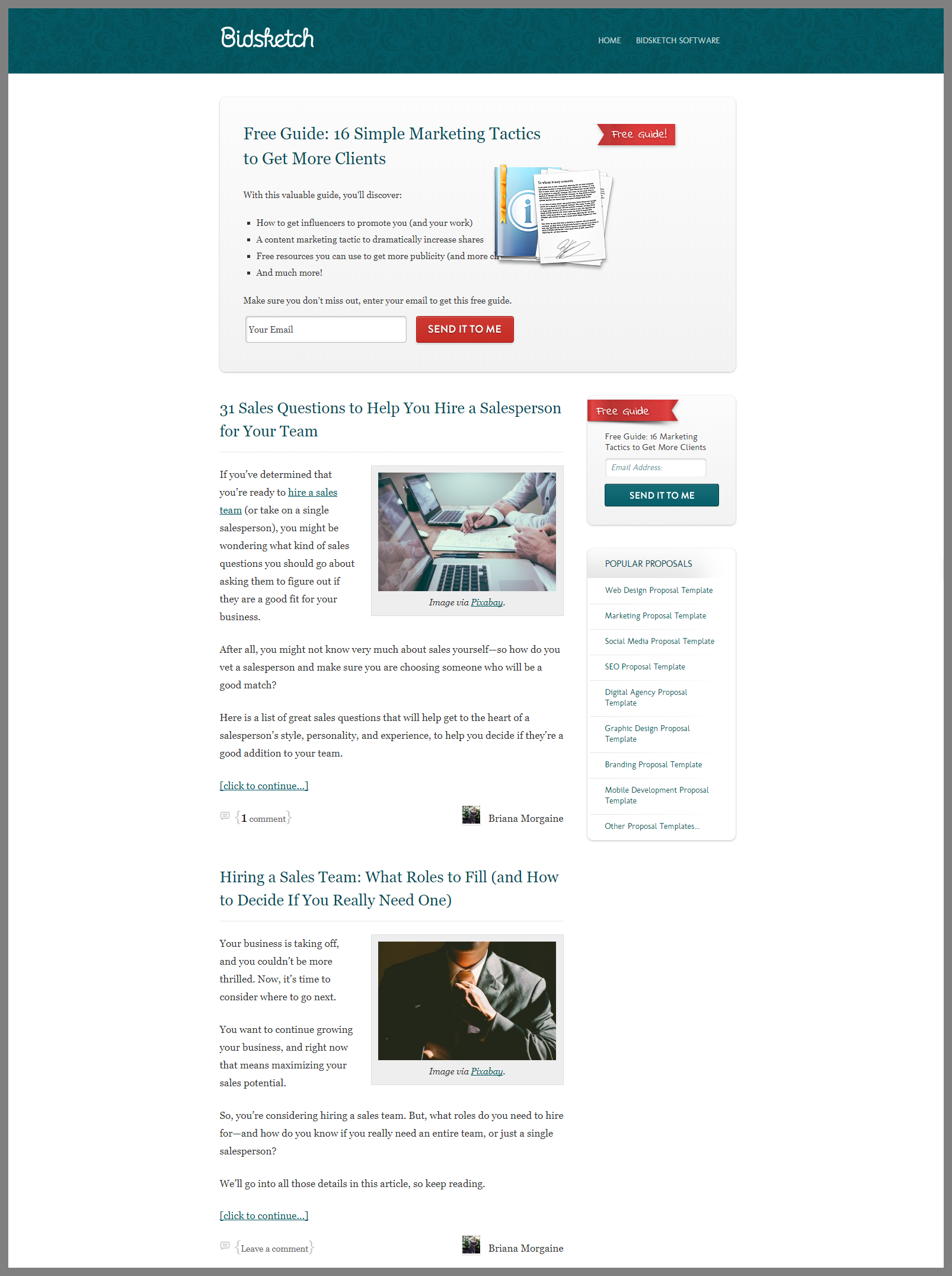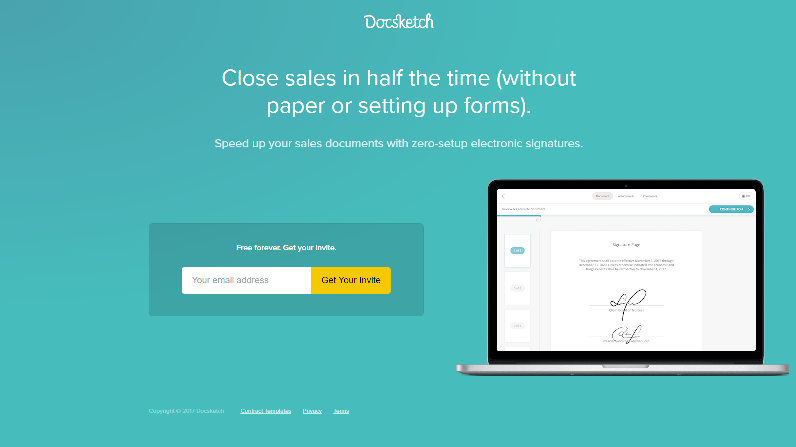 4.) What do you know now that you wish you knew when you first started blogging?
Great question. I wish I knew enough to focus on the right type of content, and not pick topics by guessing what would appeal to our audience. Nowadays, we're a lot better about picking our topics.
For example, one approach, is to start by focusing on a larger category and growing that through individual pieces of content. We're actually doing that right now, with a "contract templates" section on our site: https://www.docsketch.com/contract-templates/
Based on researching what our target customer is looking for, we are expanding that page with individual pieces of content that can also bring in traffic (like a specific type of contract template). This helps in that you can slowly build authority in a very large category, and the individual contract templates will inherit that authority.
Another approach we take is using tools like Hotjar to run microsurveys so we can ask visitors that aren't on our email list, what we should write about. We even do phone interviews with some of these visitors (and offer them an Amazon gift card for 15 minutes of their time).
5.) What are three blogs that you visit almost daily?
Well, I'll give two blogs because I'm having a tough time thinking of three.
My current favorites:
The Sumo.com blog which focuses on growth stories (so good):
The James Clear blog which focuses on personal improvement through fitness, psychology, and more.
6.) Can you give us three recommended tools/services that you use with your blogging?
Hotjar for microsurveys, visitor recordings, etc
Sumo.com for email collection of all types
Moz for traffic, keywords, and more
7.) What advice would you have for someone who is just starting with their first blog?
Look at the top five blogs that you love to read, and deconstruct them. Work backwards. Why do you like them so much?
Don't look at the specifics of how they're doing things (images, content length, etc.), instead look at how their positioning hooks you, or how their topic choice gets you coming back. Look at the high level things that make a big difference.
From there, spend some time brainstorming how you can use some of what you've learned on your own blog. Then, spend lots of time researching, writing, and promoting 🙂
8.) What's the best advice or tip you've discovered about blogging since getting started?
I think the best advice I've heard (and that I still try to internalize) came from Derek Halpern. Spend 20% of your time writing, and 80% promoting. That doesn't mean write for 30 minutes and promote a weak piece of content. That means, that whatever time it takes to write a very high quality piece of content, spend 4x that long promoting it.
One interesting side effect is that you start looking at whether the topics you're writing about are worth that type of promotion time.
9.) If you only had $100 to start a new blog, how would you use it?
I'd use part of it on Sumo.com tool to help me collect leads, the rest on hosting. After that, it's really just my time on research, writing, and promoting.
The most valuable things that need to be done on a blog don't cost money. They do involve you investing some time doing them though.
10.) How can readers of the blog get in touch with you?
My personal twitter and our product.
How to Leave Your Blogging Struggles Behind
Exit your comfort zone on a daily basis.
Leave blogging struggles behind.
I love blogging. Blogging feels fun, freeing and quite easy to me. But sometimes, on this journey, my feelings change a bit. Sometimes, blogging feels uncomfortable and I nudge into resistance. Fear rears its head. Mental blocks arise. Sometimes I fear running out of time or perhaps I fear wasting my time. In these moments, I have 2 choices: remain in my fear-filled comfort zone or leave my comfort zone.
I left most of my blogging struggles behind because I choose to leave my comfort zone on a regular basis. Traffic, profits, and all manner of sweet blogging success greet bloggers who feel their fears, leave their comfort zones and do the blogging task, anyway.
What Is Blogging Struggle?
Blogging struggle is doing things or not doing things based on fear. Fear drives you. You blog from a fear-based, scared energy. You avoid traffic and profit and success boosting activities because you fear the opportunities. Example; you struggle horribly to make money and drive blog traffic. I advise to begin generous, relaxed, enjoyable guest posting, to help you increase traffic and profits and success. The split second you THINK about guest posting, you feel a range of emotions, from excitement, to happiness, then, from terror, to anxiety, to a general fear of wasting your time.
If 2 people visit your blog daily and you see zero blogging profits now, and you say "no" to guest posting because of some fears, you will likely struggle horribly, because you avoided guest posting to stay in your comfort zone of fear.
Traffic and profits sit on the other side of fear, outside of your comfort zone. No way around that one. We all pay a fear tuition doing freeing, success-promoting, uncomfortable things. I remember when Zac invited me to guest post on Blogging Tips. Fear invaded my mind. Would he reject my posts? How about if he hated my posts? What if I wasted my time? Would I be able to follow all the rules? Would he criticize me? Of course Zac is the nicest, kindest, friendliest iconic blogger on earth. He REALLY is, guys. He is an exceptional human being. But fear is irrational, distorting the truths of love, harmony and abundance.
I had to feel all those scary, intense fears, and keep blogging anyway, to write and publish my first few guest posts here. 800 plus guest posts later, I am still going strong. Why? I left my comfort zone those first few times and instantly began leaving blogging struggles behind.
Exit your comfort zone every single day. Do something that scares you. Do something that tests your limits. Publish a 4 paragraph long comment on a top blog, even if you fear:
nobody is listening
nobody is reading comments
nobody will click through to your blog
you are wasting your time
the comment won't get published
This happened to me recently. I spent 15 minutes writing a 9 paragraph comment on Pro Blogger. But Disqus suffered some connection problems and prevented me from publishing the comment. I feared I wasted 15 minutes. But after feeling and releasing the emotion, I let it go, moved on, and devoted 10 minutes to writing and publishing the comment later in the day, when Disqus was working.
Struggles happen if you choose to blog mainly from fear.
Success happens when you nudge into these fears, toward your blogging fun, taking inspired but uncomfortable action on a daily basis.
Go for it!
Exit your comfort zone.
Leave your blogging struggles behind…for good.
Focus on Things More to Leverage Your Blog Quickly
Heresy!
What is the relationships guy talking about?
Blogging is a people business, right?
Blogging is one part people and one part things. Seriously. I learned this recently because if you depend 100% on people to build your blogging success you cannot possibly scale to massive levels. But if you do focus on things more, like email lists, and blogging platforms, you become less dependent on people, and also, your leveraging potential goes through the roof.
Email List Example
Let's look at the famous email list. It is a thing. After you publish a blog post, you write a few words, include a link to your latest post, and after clicking a button, email the post to 10, 100, or 10,000 people….or more people. In a split second, you reach 10,000 human beings. Using a thing helps you leverage your presence like mad. Awesome.
But imagine if you only reached 10,000 people by mentioning people in your recent post, and tagging them on social media. Humanly impossible, of course. Let's say you depend on even, 50 people, to promote your blog post, by mentioning them and tagging them. Linking to and tagging 50 bloggers takes a lotta time. Minimum, even for a 700 word post, it takes 90 minutes to 2 hours – or longer – to go the tagging and mentioning route. Do you see the problem of depending 100% on people and friendships to build blog? You run out of time. Meanwhile, sending your post to 50 email subscribers takes 3 minutes to send the email and literally, a split second to actually publish the email, at the click of a button.
Using Things Effectively Leverages Your Presence
Using email lists, blogging platforms for guest posting and certain tools leverages your presence fast because eventually, you run out of time trying to leverage your presence solely based on grabbing the attention of fellow bloggers. Plus you are at the mercy of humans, and building a fear-based attachment to fellow humans leads to misery because humans change, humans get too busy to promote you, and humans unfriend other humans.
I am for making blogging a people and things business. I have learned this lesson the hard way over the prior 2 months. Befriend people and enjoy the process, but if you want to leverage massively and sprint up the exposure ladder, tap into the convenience of technology by using things to reach more people fast.
At the end of the day, it is about helping more people freely. Use things – aka technology aka inanimate objects – to help people more freely and to help more people, too.
Exit Human-Obsessed and Things-Resistant Blogging Circles
I used to be part of blogging circles 100% reliant – virtually – on human beings, and heavily resistant to things. But none of these bloggers leveraged to big time, super successful levels. These bloggers railed against bots and joked of not using or being a blogging cyborg. All seemed funny. But on agreeing and following their advice I soon learned how incredibly difficult it becomes to grow a successful blog being 100% attached to and dependent on human beings to build the blog. Humans change. Things do not. Plus you cannot leverage humans like you leverage things.
While all these folks complained about emails and automating, they played so small that reaching next level success proved to be 100% impossible. But, I observed how using things like systems and tools will help you reach huge, targeted groups of people in minutes or even seconds. See the email example above.
Instead of complaining about or resisting tech, why not use things to make life easier, to leverage your presence quickly and to reach a huge, targeted group of human beings so you succeed and so people get what they want?
Long Term Blogging Success: Co-Creation Not Manipulation
Every blogger who succeeds over the long haul did so through co-creation.
Two blogger met. Two people make friends. Both friends help each other out, for a co-creation, and see greater success due to the co-creation.
I have seen this happen so much in my blogging life over the past 10 years. I befriended Zac many years ago. He invited me to guest post on Blogging Tips. Years later, all the co-creating I did through 800 plus guest posts helped:
increase my blog traffic
increase my blogging profits
increase my DA
increase my brand exposure
Think about it guys; all top bloggers make friends with other bloggers, both parties help each other, and we all win. You win, I win, and our fellow bloggers win.
No Manipulation
You will never create long-term blogging success by trying to manipulate people through fear, smoke, mirrors and other silly tactics, because doing so is like building your blogging business on a house of cards. Even the smallest breeze of resistance knocks down the cards, and your blogging business with it. Bad idea.
What do I mean by manipulation? Imagine you write a blog post filled with bold promises of how to make 6 figures a year, telling bloggers you know the way. You share no specific strategies for making 6 figures. Nope. But you do make big, hyped up claims, filling the 1000 word post with some hefty, silly promises. What are you trying to do? Manipulate humans into following your blog, buying your stuff and giving you money. Your intent is to use fear, greed and desperation to GET money from people. Using fear manipulates people into doing what they do not want to do, for a temporary income boost, for you. But again, imagine a house of cards. A barely detectable breeze knocks down the house, and a seemingly tiny detail knocks down and destroys your blogging business.
When I was a new blogger a LONG time ago, one blogger who claimed to be a 6 figure earner admitted he was lying. He disappeared instantly. His blogging business died because he lied about making 6 figures, because he wanted to manipulate people into giving him money.
Co-Creating Benefits All over the Long Haul
If you guest post on other blogs, you and fellow bloggers create helpful content that promotes lasting success. Imagine building a house on a rock solid foundation, on a granite mountain. Wow! That is a serious foundation. Nothing moves that home. Even a decent earthquake barely makes the house shake. This is what it's like to co-create content with fellow bloggers.
You both create something together – through a shared post and shared domain name – that is good, and leads to something good and beneficial. Fear and manipulation? No involvement in this process. Love and abundance and service, this is it, and this is why you become successful in building a rock solid foundation, and, in becoming a pro blogger.
How Can You Co-Create?
A few ideas:
guest post on your blog
guest post on other blogs
create joint videos
create joint podcasts
create joint business ventures
Ultimately, you can co-create with fellow bloggers in countless ways. Being creative is your only requirement.
Think of how the co-creating benefits all of humanity. Think of all the people you can help through your co-creation. Put people ahead of your immediate needs and also, bring other bloggers on board to see the greatest impact over the long haul.
Be generous, help people, make friends and gain exposure. Build a viable, long term, meaningful blogging business. Observe manipulative, flash in the pan bloggers come and go. I have seen thousands of these types die a quick death, like moths flying too close to the flame-temptation of quick, easy riches.
Co-create to out last virtually everybody else in your blogging niche.