Meet Ruben Gamez of Bidsketch.com and Docsketch.com
Many entrepreneurs have dipped their toes into blogging but not many have gone far. A lot of factors may have played in failure. Perhaps the lack of courage, determination, persistence? There are also instances wherein a venture is progressing but suddenly plateaus in growth. This is often the result of complacency. Successful business owners can attest that facing challenges head-on have led them to great accomplishments and the total lack thereof can do more harm than good.
For Ruben Gamez, he didn't even have to wait for the challenge to come. He got into blogging by getting out of his comfort zone and challenging himself. Today, he continues to excel as an entrepreneur by constantly finding ways on how to improve his tactic. Learn more about Ruben in this week's episode of Meet the Bloggers.
1.) Please tell us about yourself and how you got into blogging?

I started blogging as a marketing experiment and to prove to myself that I would be able to sell my first product. At the time I was working a full time job and had an idea for a software product, but wasn't sure if I'd be able to bring in enough traffic to make the idea viable.
By this point I had read enough about marketing to realize that blogging was a great way to bring in qualified traffic. I quickly did some keyword research and found a topic that I could write on, and published a post (one week later).
The goal was to see if I could actually bring in traffic, and how long it would take for that traffic to start coming in. After two weeks I started getting traffic to that post (through Google)! I was hooked on content marketing at that point.
2.) What is the focus of your blog and why did you choose that niche?
Initially we started with a very narrow focus of writing about proposals for designers. That's because at the time, our product was very niche and that was our target audience.
For example, one of the better performing posts we had at the time, was literally titled "How to Write a Web Design Proposal," which still performs well for us. As you can imagine, there's only so much of that type of content you can write for a specific niche.
I quickly realized that it was too narrow and eventually expanded to blogging about helping freelancers, agencies, and consultants land more clients.
We went in this direction after talking to enough customers and seeing what interests they had, and what type of content they liked.
3.) How are you currently monetizing your blog traffic?
We have an online software product called Docsketch. So the main way that we monetize our blog is by converting a portion of readers into customers.
It tends to be a longer process because instead of pushing visitors directly into a trial of our product, we work to get them into a drip campaign. From there we can better educate them and build trust. Eventually, some people give Docsketch a try and become customers.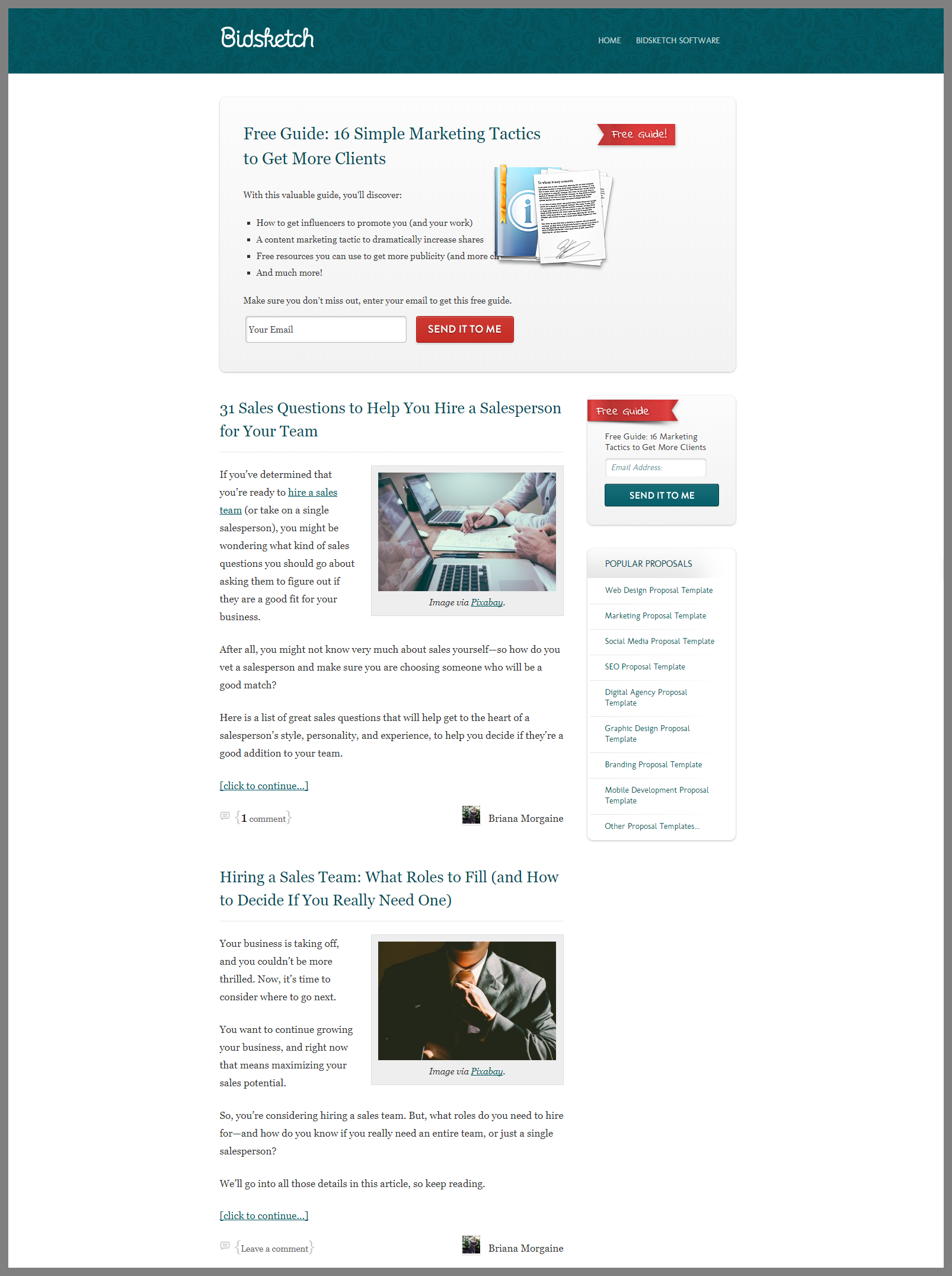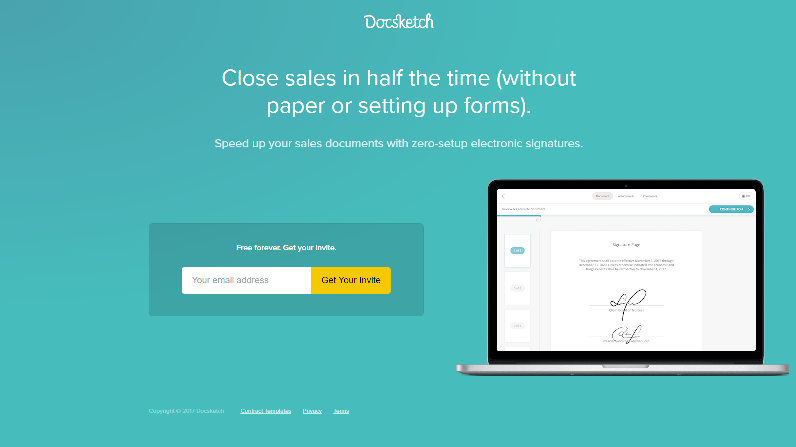 4.) What do you know now that you wish you knew when you first started blogging?
Great question. I wish I knew enough to focus on the right type of content, and not pick topics by guessing what would appeal to our audience. Nowadays, we're a lot better about picking our topics.
For example, one approach, is to start by focusing on a larger category and growing that through individual pieces of content. We're actually doing that right now, with a "contract templates" section on our site: https://www.docsketch.com/contract-templates/
Based on researching what our target customer is looking for, we are expanding that page with individual pieces of content that can also bring in traffic (like a specific type of contract template). This helps in that you can slowly build authority in a very large category, and the individual contract templates will inherit that authority.
Another approach we take is using tools like Hotjar to run microsurveys so we can ask visitors that aren't on our email list, what we should write about. We even do phone interviews with some of these visitors (and offer them an Amazon gift card for 15 minutes of their time).
5.) What are three blogs that you visit almost daily?
Well, I'll give two blogs because I'm having a tough time thinking of three.
My current favorites:
The Sumo.com blog which focuses on growth stories (so good):
The James Clear blog which focuses on personal improvement through fitness, psychology, and more.
6.) Can you give us three recommended tools/services that you use with your blogging?
Hotjar for microsurveys, visitor recordings, etc
Sumo.com for email collection of all types
Moz for traffic, keywords, and more
7.) What advice would you have for someone who is just starting with their first blog?
Look at the top five blogs that you love to read, and deconstruct them. Work backwards. Why do you like them so much?
Don't look at the specifics of how they're doing things (images, content length, etc.), instead look at how their positioning hooks you, or how their topic choice gets you coming back. Look at the high level things that make a big difference.
From there, spend some time brainstorming how you can use some of what you've learned on your own blog. Then, spend lots of time researching, writing, and promoting 🙂
8.) What's the best advice or tip you've discovered about blogging since getting started?
I think the best advice I've heard (and that I still try to internalize) came from Derek Halpern. Spend 20% of your time writing, and 80% promoting. That doesn't mean write for 30 minutes and promote a weak piece of content. That means, that whatever time it takes to write a very high quality piece of content, spend 4x that long promoting it.
One interesting side effect is that you start looking at whether the topics you're writing about are worth that type of promotion time.
9.) If you only had $100 to start a new blog, how would you use it?
I'd use part of it on Sumo.com tool to help me collect leads, the rest on hosting. After that, it's really just my time on research, writing, and promoting.
The most valuable things that need to be done on a blog don't cost money. They do involve you investing some time doing them though.
10.) How can readers of the blog get in touch with you?
My personal twitter and our product.
Why Do You Resist Writing eBooks?
Writing and self-publishing eBooks scares bloggers.
I piddled in my eBook writing pants until 2012. People told me I should write 'em. I looked for every reason in the eBook NOT to write eBooks. Nobody would listen. Nobody would buy. Nobody would care.
Turns out, people listen, buy and care enough to publish 5 star reviews for my eBooks. Look at the featured image for this blog post describing this eBook:
7 Tips for Writing Successful eBooks Quickly
I locked down five, 5 star reviews because I taught my readers how to write successful eBooks fast. But years prior, fear clouded my mind concerning writing eBooks to the point of me refusing to write one. You may be in the same cyber boat; but you better not miss the eBook writing boat. Lucrative profits serve as one part of the picture. Digging deeper, writing eBooks brands you, distancing you from the herd. Plus you feel good writing short reads and gain trust and extra credibility in the eyes of readers.
Why Do You Resist Writing eBooks?
Fear is the core reason. Fear of failure, criticism or wasting time sit near the top of eBook-related fears. I did not know how to sit down and write the darn things. Fear arose in my mind; how would I do it? Who would teach me? Could I find the process? Would I need special editors? How could I learn the technical steps for conceiving an idea to shipping the eBook on Amazon? Tech stuff really scared me; I had no idea how to save Word files with different, web-based extensions, let alone creating covers with proper dimensions via Canva to meet Amazon's diligent standards.
Rather than learn how to do these things I allowed fear to get the better of me, refusing to write eBooks. But during a trip to India I met a reader and friend who begged me to write eBooks for a while. He had been on me for a minute. Meeting in person, he finally convinced me to write and self-publish an eBook on a lesser known digital platform. Later, I went with Amazon, and never looked back.
I had to dive into and nudge through deep fears related to failing and being criticized because I believed nobody would buy what I offered in eBook form. As my friend convinced me, I waded through ideas like wasting my time, getting terrible reviews and promoting my eBook to the tune of zero sales. Did it feel good to embrace these fears? Heck no. But the benefits of self-publishing far outweighed a few unpleasant emotions experienced during these fear-feeling sessions.
Nothing to Lose Everything to Gain
Gain by writing eBooks; if you take experience with you, loss is impossible. Even if you sold not a copy you take valuable writing, marketing and selling experience with you any time you write and launch an eBook. But if you generously help people and make friends, you will sell eBooks and help more people, reflecting gain back to you in physical form.
Digging even deeper, facing and releasing fears associated with criticism and failure benefit you across the board with your blogging campaign. Apply that same fearless nature to other aspects of your blog to boost your blog traffic and profits.
Write and ship.
You have nothing to lose and everything to gain.
1 Tip for Being an Intelligent and Prospering Blogger
My eBook: 10 Tips to Be a Smarter and Richer Blogger
possesses an interesting cover for anyone not familiar with my eBooks.
For anyone familiar with my 100 plus eBooks, my cover is par for the course. Every single one of my eBook covers has been personally snapped by me. Images of paradise preserved by yours truly fit my brand, blog and eBook covers perfectly. Blogging From Paradise means retiring to a life of island hopping through smart blogging. Sometimes I visit islands. Sometimes I visit mainland spots. In all cases, my eBooks and courses – as well as my blog – bleed travel images because this approach fits my brand and is unheard of in the blogging tips niche.
I totally respect any blogging tips blogger who posts featured images for their blogs and eBook covers consistent with content titles. Imagine a light bulb and dollar sign for the above eBook cover, for starters. But I went with a photo I snapped in gorgeous Rawai Bay in Phuket, Thailand for my cover image. Why? Nobody else on earth uses their travel photos as eBook covers and featured post images in the blogging tips niche. If nobody else does it and the move completely aligns with my brand message, this is the starting point for being an intelligent and prospering blogger.
Smart and Prospering Means Different
Every successful blogger I follow sticks to basic fundamentals but deviates from the norm in some regards. Different means bigger bucks and smarter prospering because readers notice that different flavor stepping away from normal. Folks enjoy my covers and blog post images, even though the content and eBook title technically have nothing to do with travel images. Guess what? Adding my brand logo aligns the eBook cover with my blog and brand. People clearly see I am about blogging from paradise. Why not add travel images to each eBook cover?
I follow a high number of basic blogging rules; create value, build connections, be generous and have fun. But if you do EVERYTHING just like most bloggers, you get lost in the herd. Nothing makes you stand out if you do not choose to stand out with at least one element of your blogging campaign. I stood out with eye-popping eBook images I snapped myself, in a blogging tips niche. How do you stand out? Ask yourself the question. Be straight with yourself to answer.
Bigger Profits from a Smarter Energy by Being Different
Cindy Crawford kept her mole. Muscle Man Arnold kept his accent. Steve Jobs made computers and peripherals outrageously expensive and designed quite weirdly compared to other computers and peripherals. Guess what? Crawford, Arnold and Jobs are legends who we won't forget for a long time. Different makes you a serious fortune because people notice folks who stand out in some way, shape or form. This different approach bleeds intelligence; why work your butt off if you look just like the next guy and offer a mimicking service?
But Make Sure You Follow Some Fundamentals
Steve Jobs did not attempt to make computers out of cardboard. Arnold did not try to speak German in Hollywood movies. Cindy Crawford did not try to rewrite the foundations of modeling by wearing a fake beard of photo shoots. All icons followed basic rules for their industries because being too far out in left field usually makes you forgettable, or, impossible to spot. Follow blogging fundamentals to stay in the game but find that one thing that distances you from the herd.
Why Should You Help Other Bloggers Succeed?
If you build it AND if you help other bloggers build it, then they will come.
We have all seen the famous line from Field of Dreams rehashed many times, regarding blogging. Building a blog solo ain't good enough. Platitudes of content being king and networking queen get bandied about, and I do not disagree.
But I wanted to put a spin on the line; if you build your blog and help other bloggers build their blogs, THEN people will visit your blog, hire you, buy your stuff and endorse you.
A few moments ago, my friend and power house blogger Julie Syl Kalungi tagged me on Facebook with kind words.  She mentioned a common mistake we both see often; bloggers pitch us content with nothing else to show for the pitch, other than mediocre or OK content from an unknown blogger. If it were that easy to get featured on Blogging From Paradise or on Julie's blog, we would both place 5 to 10 to 20 guest posts daily, or a helluva lot more.
Of course, landing features on established blogs is not easy at all. But struggling, failing bloggers mistakenly believe it *is* as easy as tempting pros with a helpful post, or some other lukewarm incentive, and wonder why they never get featured on top blogs. Plus bloggers do the silly thing of offering a $1 or $3 bulk discount for 25 posts. Having a poverty consciousness makes you do silly things.
Anyway, these strategies NEVER work because the pitching bloggers are trying to build it – aka their blogs – before building other blogger's blogs. Build your blog and other blogger's blogs. Grow your friend network. Be genuine. Be generous. Help. Expect nothing. Ask for nothing. As you help other bloggers succeed and improve your writing skills, something neat happens; you befriend a bunch of skilled bloggers who boost your traffic and profits through endorsements, promotions, by buying your stuff and by hiring you.
This is why you should help other bloggers succeed. Make friends. Profit. 100 is better than 1.
100 Is Better than 1
I learned years ago the efforts of 100 blogging buddies beats my individual efforts. I am not super connected to 100 plus blogging buddies, but at least that many folks promote me or endorse me routinely across a wide range of channels. Imagine how much 100 bloggers can expand your reach, compared to your individual, singular efforts?
Why do 100 plus bloggers help me out? I have helped thousands of bloggers grow their traffic and profits over a decade online by commenting genuinely on their blogs, by promoting them on social media, by endorsing them, by promoting them on my blog, by inviting them to guest post on my blog and by guest posting for them.
I benefit too, of course. This marks my 6th guest post of the day. As I promote my 71% blogging course discount (use the discount code in the first paragraph) across a slew of these guest posts I gain profit potential and boost my blog traffic too. But I also drive free, passive traffic through each guest post. My 3 blogging buddies living in India who I guest post for wake up to free, passive traffic. I help them succeed. My blogging buddies help me succeed by giving me platforms for reaching their readers.
Do you see why building it and helping other bloggers build it makes you incredibly successful over the long term?
Julie became a wildly successful blogger by generously helping other top bloggers succeed. Now, her blogger friend network expands her reach far and wide.
Give What You Want
Do you want money? Help other bloggers make money. Promote them on your blog. Link to them. Buy and review their eBooks. The number of friends you make by being generous will astound you. As this loyal tribe grows in size and scope, and helps you make more and more money, you will be even more astounded.
Blogger Outreach Resource
Are you looking for bloggers to help? Buy my eBook:
27 Influential Bloggers to Follow