Since starting my blog at ZacJohnson.com back in 2007, it's been one of the best business decisions I've made. Even though I've been making money online since 95-96, it wasn't until I started my own personal brand and built a following that I was able to really expand out on my own and not be reliant on just affiliate marketing revenue.
However, even before starting my own blog, I was still fairly well known in the online marketing and affiliate space (merely as a successful affiliate marketer). This was also because of my early attendance at events like Commission Junction University, Affiliate Force and of course Affiliate Summit (which has now grown to over 5,000+ attendees)!
Affiliate Summit is simply the best way to make in-person connections and scale your blog or business in ways you never could just through email or phone. The personal interaction means so much and it's something every blogger, marketer and entrepreneur should experience at least once.
At the same time, it might not be feasible to pay hundreds of dollars for a ticket to attend the conference or flying across the country at any given moment. The good news, however, is that I can help with the process of getting you to attend the next big event!
July 31, 2016 – August 2, 2016: New York Marriott Marquis
Similar to previous years, I will be speaking on a panel with other top industry bloggers and online marketers John Chow, Syed Balkhi and John Rampton.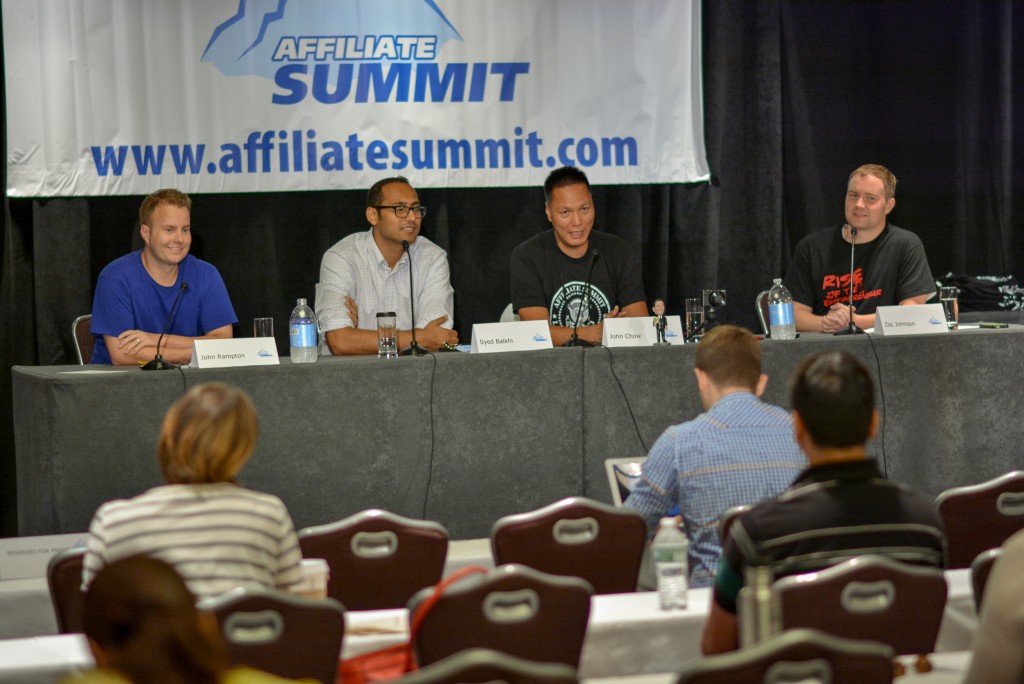 This panel is always rated as one of best at every Affiliate Summit conference for the past several years, and I'm sure this year will be no different. (image source)
Collectively, our panel has nearly 50 years of experience in the online marketing space, and we will be covering what it takes to bring your blog, brand and business to the next level while also answering questions throughout the session.
Best of all… we want you to make it to the event this year!
Win a Free Pass to Affiliate Summit East 16
What's even more exciting is that I have a few passes to give away to my awesome blog readers this year! These passes are valued at $549 each, so do take this promotion seriously!
The following rules apply:
Please only enter if you plan to attend the event if you win.
Entrants need to be at least 21 years old.
Passes are not transferrable — if you win, only you can attend.
This promotion is for a networking pass only. No travel or hotel included.
How to Enter:
Never before has it been so easy to walk away with a sweet $549 networking pass to Affiliate Summit for free. To get your hands on one, all you need to do is leave a comment below on how attending Affiliate Summit will greatly impact your blog, brand or business for the better.
All entries will then be collected and a handful of winners will randomly be selected. Good luck!