Facebook Auto Publish: Is it Possible? Yes, How it Works
Our website is supported by our users. We sometimes earn affiliate links when you click through the affiliate links on our website
Contact us for Questions
The rising number and growth of the blogging ecosystem makes Facebook auto publish mandatory. Why auto publish and why on Facebook?
You're already aware that social media is essential to running a blog because it's the best way to market yourself, share your content, and find your target audience. The question is whether it's possible to Facebook auto publish your posts to social media or if you'll have to continue to do it manually.
Sharing your WordPress blog content on Facebook is a great idea because it allows your content to reach more people, to show your followers that you are staying active online, and to hope that they will share it to their friends and family. Facebook is, without doubt, the largest and the biggest social networking site in the world and there's no way you can ignore its presence.
Don't ignore the necessity in being an active social media user and put yourself out there by sharing your blog posts to your readers.
The good news is that if you are finding it's time consuming to share your posts to multiple platforms each time to upload to your website, there is now a way to automatically publish them to Facebook.
In this article, we will talk about how you can do Facebook auto publish with few methods.
Methods to do Facebook Auto Publish
Here they are:
#1 Facebook Auto Publish Plugin
The WordPress plugin repository has this awesome plugin with 30,000+ active installs that helps to publish posts on Facebook automatically from your blog. You can publish these posts as simple text message, text message with image or as attached link to your blog.
Further, filter the posts based on their categories and custom post types – choose what you want to share and what you don't want to share. You can also enable or disable publishing of WordPress Pages.
Once the plugin is installed, access is on the Dashboard and view the below configuration section.
Here, configure the settings easily – they are self-explained. In the below screenshot, you need to choose the Facebook auto publish post options.
Again, it's simple to decide.
The complicated part is these sections: Application Secret, Facebook User id and Application Id.
These settings need detailed configuration, which is explained below.
Create Application for Facebook Auto Publish
Here are the steps.
#1 Go to this link. If you're using it for the first time, you need to register as a developer. If you're registering, Accept the Terms, select the appropriate options in the Tell Us About You section and finally, click Done and you've become a developer with Facebook.
#2 Click on Create New App link and choose Website.

#3 Enter the app name and click on Create New Facebook App Id or directly click on Skip and Create App Id button.


#4 Here, enter the App Display name, optional Namespace, choose the category and click on Create App. Enter the security check and click Continue.


You can see the application Id and application secret now. However, since the app is in the development mode now, only you can view the posts. The next is to make the app Live.
#5 Go to the Status and Review section and make it Live by selecting the Yes button. Once done, a green colour indicator will be visible.


#6 Go to Settings.


#7 Click on Add Platform and you'll see a number of choices. Select Website.


#8 Add the Site URL and click on Save Changes.


You will now have the Application Secret, Facebook User id and Application Id to enter into the Facebook Auto Publish configuration page skipped earlier.
The Facebook Auto Publish plugin is fully configured. When a post is published on the blog, it will be directly shared to your Facebook account / page. It's completely automated. You need not login to Facebook and share manually.
#2 Jetpack Publicize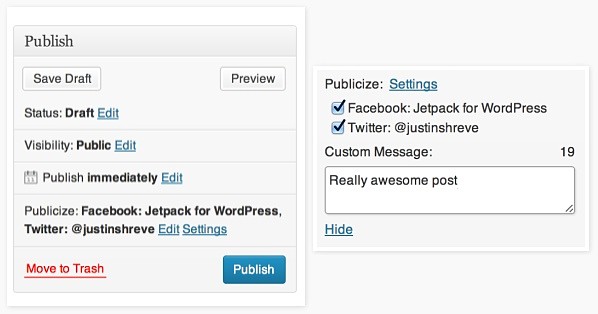 Publicize is a core feature of the Jetpack plugin. By tweaking the available Sharing options, you enable it to automatically share the content not only on Facebook but on others as well such as Twitter, Tumblr, LinkedIn and Yahoo. Choosing which posts to share on which social networks happens on post-by-post basis.
#3 WP Auto Share Post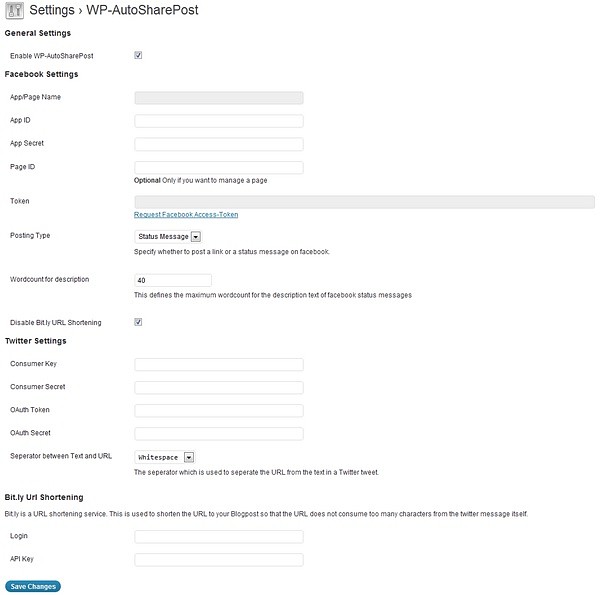 This Facebook auto publish plugin works with Twitter as well. It works with a predefined message and is a bit more technical than the Jetpack Publicize option.
Use the 8-steps outlined above to create the Facebook app for making this plugin functional. If you want to auto publish on Twitter, create the Twitter app with the help of this guide.
The plugin is a bit better because it supports URL shortening services like Bit.ly; hence, you can track social media traffic and optimise content shareability accordingly. Lastly, the plugin grabs comments from Facebook and adds them to the blog comments section of the WordPress site.
#4 Social Publish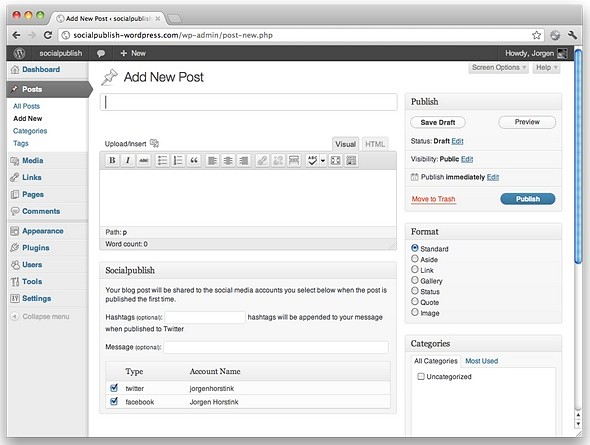 If you don't want to go into the steps of creating Facebook app and Twitter app, use the Social Publish plugin. The plugin shares the blog posts on these social media platforms as soon as they are published.
Simply sign up for a Social Publish account and connect Twitter and Facebook account with it…and you're done! Choose which social platforms to share the content for each posts and if the need arises, you can choose to add a custom message with every blog post.
Endnote
It's simple to setup Facebook auto publish options, as we have shown you above. Apart from Facebook, you can setup auto publish options for other social accounts too.