Freelance writing is one of the easiest ways to make money online.
From the comforts of your home, you can write about diverse topics, express ideas, and share knowledge with readers.
But the part you might find challenging is how to find writing jobs online.
The good news is that writing jobs are in abundance; you only need to look in the right places.
And more importantly, you should know how to pitch yourself to freelance writing clients.
In this article, we'll cover all you need to know about starting a freelance writing career and where to find freelance writing opportunities for beginners and experts.
Where Can You Find Writing Jobs That Pay?
There are several places to find freelance writing jobs that pay.
We've made a list of places to check.
They're categorized into the following:
Job boards
Content marketing agencies
Guest posting sites
Social media
Where to Find Freelance Writing Jobs – Job Boards
Some job boards specifically call for writers so that you don't waste your time scrolling through tons of job postings.
It's important to note that not all job boards are free to use.
Some of them require you to pay a membership fee.
If you're a beginner, this shouldn't deter you.
The key to landing your first job as a freelance writer is trying multiple options.
Here are some job boards where you can find freelance writing work.
This platform has numerous job opportunities.
It's one of the largest freelance marketplaces, and you don't have to pay any fee to join.
As soon as your registration is complete, you'll get some "connects", which are points that you can use to bid for jobs.
But you have to purchase more if you exhaust them.
Upwork is quite competitive.
The key to landing your first client is having an optimized profile and an online portfolio.
Clients want to see what you can offer before they hire you.
So, before applying to any job, make sure your skill set matches what the client wants.
If you don't have an online portfolio, some clients will request a test article.
While it sounds like a smart idea, it's against the rules of Upwork.
Some fraudulent clients may use your article and end up not hiring you.
Upwork has service fees that depend on the total amount of money you've earned from each client.
The platform charges 20% on your first $500 from one client.
Afterward, it charges 10% until you've earned up to $10,000 from that client.
When your earnings from the client exceed $10,000, Upwork will charge 5%.
This freelance marketplace is best for project-based work and has plenty of online writing jobs.
When you sign up, you have to create a list of services you offer.
As the name Fiverr implies, offers start from $5.
Fiverr categorizes freelancers based on the quality of their services, delivery time, and customer satisfaction.
There are four levels:
New seller: it shows that you're a new freelance writer with little or no experience.
Level 1 seller: for freelancers who have completed a minimum of 10 gigs within two months and their clients were highly satisfied.
Level 2 seller: for freelancers who have satisfactorily completed 50 orders within four months.
Top-rated seller: for freelancers who have consistently delivered high-quality orders, earned over $20,000, and maintained an active profile for at least six months.
Fiverr is a free job site, but after completing an order, the platform takes 20% of your earnings as a service charge.
FlexJobs is an ideal place to start freelance writing, especially if you're looking for remote work and on-site flexible jobs.
The platform is subscription-based because, instead of computers, real humans take time to screen every job posting.
Membership starts from $9.95 per week, but you can upgrade to $24.95 per month.
Although there's no free trial, FlexJobs allows you to cancel your subscription and request a refund if you're not satisfied.
However, you should do this within 30 days of opening an account or renewing your membership.
To get more value for your money, FlexJobs offers weekly meetings with a career coach.
These meetings help freelancers know what clients look out for in a resume.
The coaches also provide tips for finding remote work.
ProBlogger is a job board and a helpful resource for bloggers who are looking to monetize their blogs.
Talk about using one stone to kill two birds.
So, if you're looking for freelance writing jobs, and you own a blog or intend to start one, ProBlogger has all you need.
The platform is free to use.
When you sign up, you'll input your education history, relevant work experience, and your preferred niche.
In addition to blogging jobs, you'll find several copywriting jobs here.
Whether you're looking for blogging, technical writing, or journalism jobs, Blogging Pro is worth checking out.
Jobs are classified as temporary, internship, freelance, or full-time jobs.
When you find one that matches your skills, send in a resume or follow the client's instructions.
Blogging Pro doesn't charge job seekers.
Rather, clients pay $30 to advertise a job for 30 days.
Additionally, Blogging Pro offers writing tips to help writers upgrade their skills.
It also has useful resources for people who want to start a blog.
These include information on registering a blog, writing creative posts, and building an audience.
LinkedIn is a professional platform for networking with people in your industry.
In addition to attracting new clients, it accommodates job seekers.
So, if you already have a profile on the platform, optimize it to showcase your writing skills.
Additionally, LinkedIn has an "open to work" frame that allows people in your network, recruiters, and employers to know that you're actively looking for a job.
During Social Saturday, an event held by users on their walls, you can comment under a post, informing people about the type of jobs you're looking for.
There's also a dedicated section for jobs, which is helpful when searching for writing jobs.
You can create alerts so that you know when such jobs are available.
The notifications will pop up on the mobile application or in your email.
It's important to check the location of the jobs, though.
Some employers are location-specific, so if you're not in that region, you might be wasting your time applying to such jobs.
Also, the job may be on-site, remote, or hybrid.
ZipRecruiter has a generous number of job opportunities for freelance writers.
When you sign up, the platform pairs you with a personal recruiter so you can get jobs that match your skill set.
You can also filter job postings to display the kind of jobs you want.
On top of that, if you sign up for email notifications, ZipRecruiter will send job postings to your inbox without you searching the website.
This could save you time and energy as you don't have to check out a job if you don't like the preview.
And best of all, the platform doesn't charge freelancers to search for jobs.
Freelance Writers Den is owned by Carol Tice, a six-figure freelance writer who has trained over 14,000 freelance writers.
Beyond being a job board, the den is a membership site that opens for registration twice yearly.
For $40, you'll get access to training content to boost your freelance writing career, boot camps, live events, and one-on-one sessions with Carol.
Also, you'll become a member of a community of writers and enjoy direct referrals to freelance writing gigs.
This job board is owned by freelance writers, and you should expect to see new freelance writing jobs regularly, especially from big names like Ahrefs.
There're also jobs for B2B writers and freelance editors.
Peak Freelance also offers writing resources such as handbooks, courses, and tips.
Job seekers can use this freelance writing job board for free, but you have to pay a membership fee to access the courses and unlock other features, such as access to an exclusive Slack group where you can ask questions and find high-paying jobs.
The membership costs £39 per month or £450 per year.
You can cancel your membership at any time.
Peak Freelance offers a refund if you cancel within two weeks of joining.
However, you won't be able to access the platform's resources unless you subscribe to the lifetime access plan for a particular training course.
If you're looking for a job board that allows you to apply to multiple jobs daily without scrolling through tons of postings, Freelance Writing Job Board is for you.
It offers various categories of freelance writing, and you can filter jobs based on niche, location, and time of posting, which is an ideal way to save time.
Freelance Writing Job Board gets job postings from various freelance writing job boards like Craigslist.
Therefore, you should expect to see new jobs every day.
Superpath is a dedicated job board for writers based in the United States.
But if you're looking for full-time jobs, you can find roles like editor, content writer, and content strategist.
You don't need to register to use Superpath.
All you have to do is visit their website and start searching for jobs.
Whether you're a beginner or an experienced journalist and looking to start a freelancing career, this platform should be your companion.
It offers jobs from digital media, newspapers, newsletters, radio, and so on.
You can also see the job description and salary range.
Job postings are updated every day, so you should expect to find new jobs often.
You can sign up to get notifications.
This writing job board is ideal for beginners, especially when you don't know how much to charge per project.
Clients post their rates in the job listings.
As a result, you'll know how much you'll earn if you take the job.
Freelance jobs are categorized as pro-rate, semi-pro, and low-paying writing jobs.
Although you may not find new writing jobs online every day, All Freelance Writing offers useful freelance writing resources and business tips for advancing in your journey.
As the name implies, Solid Gigs offers handpicked freelance writing jobs for experienced writers.
All jobs posted there are screened.
As a result, you can find writing jobs from renowned brands.
Solid Gigs charges a membership fee of $19 per month, but you can pay $2 to test the platform for 30 days.
Members get job notifications of writing gigs in their inboxes every week.
Media Bistro is a haven for media and content professionals.
Clients and employers post jobs in various niches every week, and you can find some of the best freelance writing jobs for beginners.
The platform also offers free courses that teach you how to collaborate with influencers and how you can sell your services using social trends and Facebook ads.
Where to Find Freelance Writing Jobs – Content Marketing Agencies
Content marketing agencies are perfect for beginners who are scouting for freelance writing jobs.
These agencies already have clients who need freelance writing services.
All you have to do is prove that you can write, and they'll provide the jobs.
Although the rates may not be high, you'll always have freelance writing gigs to grow your portfolio and a steady income.
Here are some agencies to check out.
ClearVoice is owned by Fiverr, one of the job boards we mentioned above.
It ensures that freelance writers earn more with less hassle.
When you sign up, you'll receive a prompt to create an online portfolio.
It's highly customizable, as it allows you to add images, sections, headlines, and PDFs.
The key to getting assignments on the platform is ensuring that your portfolio stands out.
You can do this by picking three topics that you're experienced at.
Also, add samples of your writing so that the in-house team can evaluate your writing skills.
The platform allows you to pitch to clients.
So, make sure your portfolio has enough evidence to match what you'd say.
ClearVoice allows freelancers to decide how much clients should pay per assignment.
When you set your preferred range, you'll see assignments that match it.
Once you complete an assignment and it gets approved, you'll get paid through PayPal.
You can chat with clients via ClearVoice's messaging app to get clarity on the assignment, which means no one comes to your email unless you permit it.
If you're looking to work with big brands and grow your freelance writing portfolio, Contently is here for you.
The agency has attracted clients such as American Express, Dell Technologies, and Marriott hotels.
It also offers high rates, and you don't have to negotiate with clients.
The rates are determined by the word count, the niche, and the volume of research required to do the job.
For instance, tech and finance articles attract higher rates than fashion and food.
Contently's offers are attractive, but getting all of that juice isn't an easy task.
You should prove your worth by delivering high-quality work.
NewsCred is an agency that helps companies with brand journalism, advertising, and writing and publishing content.
It attracts clients such as VISA, Pepsi, and ConAgra, which implies that its freelance writers should be well-paid.
The agency doesn't publish its rates, but there's an assurance of consistent work.
You can check out the NewsCred website to know when the company is hiring.
But if you want to strike cords faster, you can research the right contacts, then connect with them on LinkedIn.
Ensure you highlight your skills and experiences in your pitch.
SmartBug Media handles a wide range of web design and content marketing jobs.
Its freelancers and employees work remotely because the founder, Ryan Malone, believes people can have thriving careers and still enjoy a comfortable life.
The company works with brands in different niches, such as finance, healthcare, and nonprofits for the purpose of inbound marketing.
You'll excel here if you're a B2B writer.
But you should have experience in the niche you choose.
You can expect to get assignments such as e-books, blog posts, case studies, and lead magnets.
The company provides writing guidelines during the onboarding process.
And when a task is assigned to you, you'll get a comprehensive detail of the assignment.
Freelancers are allowed to negotiate rates with clients.
So, you can set your rates depending on the type of writing projects available.
To join, check out the company's website to fill out the application form or contact the founder, Ryan.
Owned by a freelance writer, nDash understands what it takes to become a writer.
It connects writers to companies who need their services and attracts clients like Data Dog, Tech Target, and Cloud Endure.
To get started, visit the website and create a profile.
Also, include your writing niche, level of experience, rates, and some freelance writing samples.
You can get projects such as e-books, white papers, and blog posts.
SkyWord serves Fortune 1000 companies with high-quality blog posts and infographics.
Freelancers on the platform can set their rates based on the type of project available, but the clients are allowed to negotiate.
When you're hired, the employer pays a fee to the company for matchmaking.
Freelancers receive payment via PayPal.
Unlike other freelance writing platforms, SkyWord charges 50% of the agreed project price if the client rejects the completed assignment.
This way, you'll be compensated for your efforts.
The process of getting assignments on SkyWord is quite extensive.
However, it'll pay off if you stick around and showcase your worth.
The onboarding process aims to drive away inexperienced people who may want to reduce their rates so they can get freelance writing jobs.
Codeless serves SaaS brands and accepts freelance writers in SaaS, project management, investment, e-commerce, and fintech.
You can apply via the career page and get a response within 30 days.
The company also runs a job board where it posts jobs from ZipRecruiter and ProBlogger.
Good Signals is a digital marketing agency in London.
Its clients fall within events, personal finance, and sustainability niches.
If you're hired, you'll help clients grow online by driving traffic to their sites through well-written and search-engine-optimized content.
Brafton is the marketplace for copywriters who are experienced in email marketing.
There are also jobs for video content creators, social media managers, and editors.
Digital marketers who have experience writing for B2B and B2C are welcome to join.
Brafton handles projects such as video scripts, white papers, infographics, web content, search engine optimization content writing, and blog posts.
Where to Find Freelance Writing Jobs – Guest Posting Sites
Many sites can pay you to contribute to their blogs.
It's an excellent way to build credibility, whether you're a newbie or an experienced writer.
Guest posting sites have specific instructions about the kind of articles they want and how you should approach them.
Some require you to pitch your ideas to the editor, while others accept already written articles and then ask you to wait for approval or a rejection email.
Check out the list below.
You don't have to be a mom to apply for a job on Freelance Mom.
However, you should have personal experience with handling kids and being successful in your career.
You can earn between $75 to $100 for 900-1500 words.
This site aims to help people earn more money and spend wisely.
It's one of the top sites on personal finance.
So, if you want to guest post on this site, you should have a personal experience to share alongside tips and strategies.
You can earn about $75 for 700-900 words.
Do you like making curious lists such as "10 child star actors and what they've become now"?
That's what List Verse does.
To get started, send a pitch containing an original list post that has a minimum of ten pieces of info.
You can earn up to $100 per post if you get accepted.
If you're a non-fiction writer, this site accepts both non-fiction and fiction stories about how writers earn a living.
The stories should be between 500 to 600 words with no fluff.
You'll get $50 for an original story and $15 if it's been published elsewhere.
If you've got real parenting stories to share, Motherly accepts stories that offer new perspectives on parenting.
The site pays $50 per post after you've successfully published two posts.
This blog aims to help both new and old writers to advance and earn more money.
So, if you have ideas or personal experiences that can help other writers, you're welcome.
You'll earn between $75 to $100 per 1000+ words.
This blog accepts tutorials about knitting patterns, fiber materials, and clothing designs.
You can also share original knitting patterns with pictures to increase your chances of getting accepted.
The pay is between $120-200 for 1000-2000 words.
8. Money Crashers
This is a finance blog that accepts posts on retirement, debt and credit, mortgages, investments, and so on.
The site doesn't publish its rate, though
If you're handy with graphic design software, such as Fireworks, Illustrator, Photoshop, and InDesign, you can publish a tutorial on Pxleyes.
The site pays $200 per tutorial.
Being a mom is a challenging task that can leave you feeling frustrated and unfulfilled.
So, if you've got ideas that can help new and intending moms, the Yummy Mummy Club will pay you $100 to share them.
This online sports magazine is all about snowboarding.
You'll get 35 cents per word to contribute your knowledge and real experience on snowboarding.
If you love traveling and can blog about it, Great Escape offers a place to share your experiences.
You can earn between $150-200 if your article contains finance tips.
Also, personal stories and interviews can fetch you $100-150.
But if the site requests a specific blog post, the pay is between $50-75.
This site covers nutrition, food safety, and topics regarding the food industry.
The pay is between $300 and $500.
Where to Find Freelance Writing Jobs – Social Media
Social media is a gold mine for finding freelance writing jobs.
Influencers and brands share job postings on Twitter, LinkedIn, and Facebook groups.
So, you may want to keep an eye out for hashtags like "work with us" or "we're hiring."
Below are useful tips for finding freelance writing jobs.
If you own a Twitter account, you can use the search feature to find freelance writing jobs.
Go to the Twitter website.
Type a keyword in the search box (e.g., writers wanted), then press the enter key to search. The site will bring up various posts that contain one or more of the words you searched for.
You'll see "Search filters" on the right side of the screen. Below that section, you'll find "Advanced search." Click on it.
The advanced search has several parameters. In the first box, enter all the words you're searching for, which could be a particular type of writing job. But you should be sure that recruiters or employers use that word in tweets.
In line 2, enter specific words you think will appear across all search results.
Include all variants of the word you're searching for. For instance, some companies will use freelance writers, while others will use content writers.
Here's the result we got when we tried this: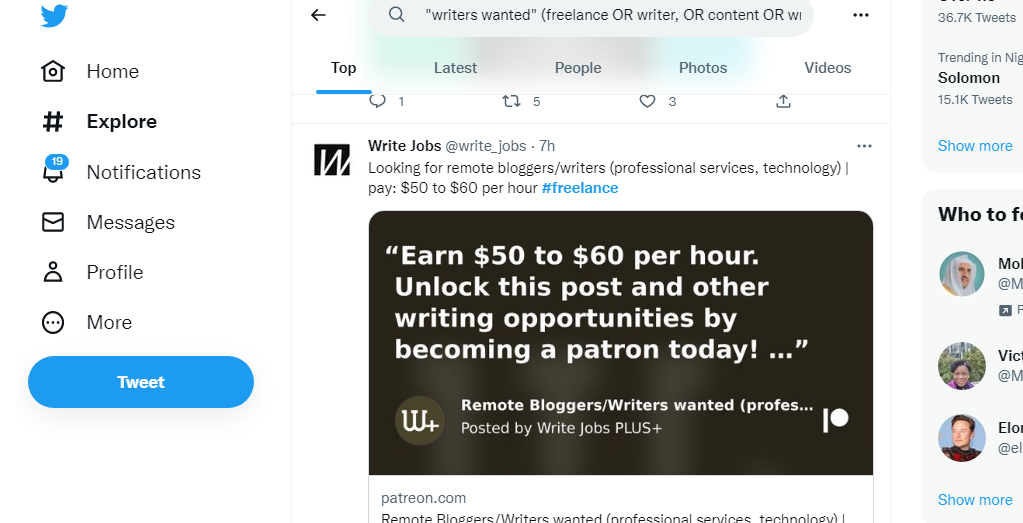 This job was posted 7 hours ago, but we had to scroll down to find it.
Depending on the keywords you search for, you may find jobs that were posted in the past two years.
In this case, you can either scroll down to see if there are new jobs or change the keywords.
However, if you go back to the advanced search box and scroll down to the last parameter, you'll see "Dates."
This feature allows you to set the date the jobs were posted.
When all looks good, save your search parameters so you won't have to start all over.
The only point that needs readjustment would be the dates.
To save your search parameters, click on the three dots at the right side of the search box.
A drop-down menu will display three options.
Click on "save search."
Facebook groups provide a safe space where you can interact with other freelancers.
Also, when clients want writers, they turn to these groups.
So, if you're lucky to be online when the post goes live, you'll be among the first people to apply.
But beyond waiting for a job offer, you can go knocking on the doors of clients.
When you spot a recruiter or employer on Facebook, connect with them, enroll in their courses (if you can afford it), or sign up for their newsletter.
Most of them respond to emails, especially if you're already on their mailing list.
This way, when you finally send a pitch, they'll be familiar with you and won't turn you down.
And if they don't have spaces for new writers, they can recommend you to another big shot.
Quora is a question-and-answer platform, but there's more to it.
You can use it to connect with expert writers and get tips that will accelerate your freelance career.
Also, if you're looking to build a portfolio, answering popular questions on Quora is the way to go.
Google indexes and ranks relevant answers from Quora, which you can show off to potential clients.
The key to getting noticed on Quora is optimizing your profile to reflect the following:
A professional headshot
A description of your services and what clients will gain from hiring you
A link to your portfolio, blog, or a published article you're proud of
Credentials and experience that match your services
Topics you write about
After optimizing your profile, search for questions related to your niche and answer them thoroughly.
Doing it on a regular basis builds your authority on Quora.
You'll have not only a ready audience but also potential clients.
How Much Can Writers Get Paid?
In the US, content writers can earn about $60,000 annually on average.
However, it can be more or less.
Before now, your location played a vital role in your earnings.
Today, remote work has changed our perspective on salary ranges.
Whether you're in a developed or underdeveloped nation, you can earn as much as you want.
What Do You Do as a Freelance Writer?
As a freelance writer, you can be hired by a business owner, a brand, or a content agency to write.
There are various writing categories, and here's a brief list of them.
Resume and CV Writing
Job seekers should make a good first impression with their CVs and resumes.
But not everyone is meticulous enough to know how to present their skills and experiences to improve their chances of getting a job.
This is where a freelance resume writer can shine.
Such writers assist their clients in curating resumes that target specific jobs.
This entails interviewing clients to know the type of jobs they're applying to, their academic background, and work experiences.
The information will help to tailor the client's details to suit several job descriptions.
Content Marketing
Brands want to build and maintain a large customer base.
And one way to do this is by writing content that educates and entertains.
Content marketing includes strategies such as blog posts, web pages, landing pages, pamphlets, white papers, and press releases.
Also, you can write content for various industries, like finance, lifestyle, medicine, and technology.
Technical Writing
Technical concepts are complex, and not everyone can understand them.
So, the job of a technical writer is to explain technical procedures using simple words.
These include product descriptions for electronics and user manuals for software and equipment.
Editorials Writing
Newspapers and magazines classify as editorials.
As an editorial writer, you get paid to analyze trending societal issues ranging from sports, politics, and economics to fashion and entertainment.
Although newspaper houses have in-house staff writers, they accept eyewitness news.
And with the help of the internet, it's now possible to turn in the news in real time.
Some editorials feature true-life stories.
So, if there are striking moments in your life or you've got a personal story that you think the world needs to hear, you can make some money out of it.
Other featured articles include poems and reviews of books, movies, and music.
Social Media Content Managing
In this age, almost every business has an online presence, especially on social media, and freelance writers can utilize the opportunity.
Running a business is challenging, so business owners look for competent people to handle their social media platforms like Facebook, Instagram, TikTok, and Twitter.
You'll be responsible for planning and writing posts across several platforms.
You'll also have to engage customers to make sure that they're satisfied with what the business is offering.
Since social media requires visuals in addition to written content, you'll excel in the job if you can create videos and designs.
Editing and Proofreading
Every book, blog post, or newspaper you've read went under editing and proofreading.
So you'll never run out of editing jobs.
You'll fit in here if you have an eye for spotting grammatical blunders or constructing clear sentences.
Editors are proficient writers with vast knowledge of different writing styles.
If you're a beginner, you can take up small projects until you've gained the needed experience to handle larger projects.
How Do Freelance Writers Get Paid?
A freelance writer can receive payment through different means.
They include the following:
PayPal: PayPal is a secure website that's connected to your local bank account. You can sign up with your email address, but unfortunately, it's not available in every country. So, if your employer can only pay through PayPal, this might pose a challenge.
Paper Check: big companies prefer to write you a check. However, in this era of remote work, a check might seem obsolete. But if you're a part of the in-house writing team, you might receive a check.
Local Bank Transfer: clients and employers can transfer funds straight to your local bank if they're in the same country as you. This is the easiest way you can get money for a freelance job.
Virtual Foreign Accounts: if PayPal isn't available in your country, or you want to receive payment in a foreign currency, you should consider getting a virtual foreign account.
Can You be a Freelance Writer Without a Bachelor's Degree or High School Diploma?
You don't need to have a Bachelor's degree or a high school diploma to become a freelance writer.
Business owners will hire you to write for them because they can't do it.
With online courses and YouTube, you can learn the basics of writing and set up your freelance writing business.
However, the following qualifications can give you an edge if you want to get better deals with clients:
Experience in content writing
Ability to use document tools like Google Docs
Ability to handle multiple projects efficiently
Ability to read and understand instructions
Knowledge in the Search Engine Optimization (SEO) field
Adaptability to a dynamic workspace
Wrapping Up
Freelance writing is an exciting career.
If you're thinking about making a switch, you may not find jobs immediately if you don't know where to look.
That's why we made a list of places to check, like job boards, content marketing agencies, guest posting sites, and social media platforms.
It's important to note that some job boards are free to join, while others ask for payment but won't collect a commission on your income.
So before registering, check the website for this info.